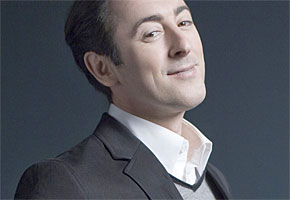 Should you ever be in a position where you need someone rugged and tough, a real man, made of solid iron, with gravitas and a core of solid steel, would the Scots actor Alan Cumming (him out of The Good Wife) make your list? No, mine neither.
And yet, the producers of the forthcoming Smurf movie clearly felt otherwise, because they've cast him as the action hero, the Scots Smurf, called Gutsy. This probably says more about the relative toughness of the other smurfs than it does about Gutsy himself.
Alan told STV that he was amazed to be asked to provide a gruff, manly Scottish voice for the part: "It's kind of ironic that I've been brought in to 'butch up' the Smurfs."
He continued: "I rarely play someone Scottish. At least I didn't have to be nervous about vowel sounds as I often am in my life."
And he managed to smuggle in an amazing Scottish term for people who are a bit dim: the glorious "numpty."
He explained: "Numpty is a very good word, a very onomatopoeic insult. Not a lot of people say it anymore; it's kind of an old-fashioned Scottish word, so I thought it would be perfect.
"Then when I realized how much it was in the film and everything I thought 'I'm re-introducing this word into the lexicon.' I'm sort of an ambassador for the Scottish language."
Here's the trailer for the movie. Alan's the one in the kilt:
Will you be calling people numpties from now on? Tell us here:
Read More
Filed Under: