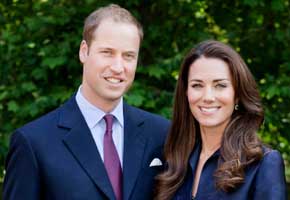 When Prince William and Kate traveled back to Britain after a whirlwind trip of Canada and California earlier this month, they were expecting to unwind by taking in British Airways' latest film selection. Unfortunately, the airline's entertainment system broke down. To make up for the inconvenience, British Airways has offered the royal couple, as well as other customers on board, $320 (£200) in vouchers.
"The whole of first class including the duke and duchess seemed a bit peeved but they were placated by BA's offer," a source told The Daily Mirror. "Still, 10 hours without in-flight entertainment is a little tough going."
An airline spokesperson added: "Unfortunately a fault with some parts of the aircraft's in-flight entertainment system couldn't be fixed before the aircraft took off from Los Angeles. We apologize to everyone affected and have offered customers either a voucher or frequent flyer miles to say sorry."
In other royal-related news:
• Labour politician Chris Bryant is claiming the royal family allegedly tried to sway British Prime Minister David Cameron from appointing former News of the World editor Andy Coulson as his communications chief. According to The Daily Telegraph, Buckingham Palace is saying they did nothing of the sort. "On no occasion did any officials from Buckingham Palace raise concerns to Downing Street and indeed it is outrageous to suggest this," a Palace representative said.
• The Daily Mail's Zoe Brennan has some helpful advice for The Duchess of Cambridge ahead of her August trip to Balmoral. As expected, she should pack appropriately for the chilly evening campfires, as well as brush up on her history of the famed royal estate. Plus, she should plan on chipping in with the family BBQ.
• Prince Harry may be a pro at flying Apache helicopters, but his father, Prince Charles, who earned his helicopter pilot license over three decades ago, think he himself is a little rusty.
"I found I am past my sell by date when it came to controlling such a sophisticated aircraft," The Prince of Wales said in a speech at Wattisham Airfield in Suffolk this week. "I am not part of the PlayStation generation which seems to be vital when getting to grips with the controls of an Apache. I couldn't read the writing on the dashboard so I was constantly peering at the display."
• BBC News reports that those royal family members that congregated on the Buckingham Palace balcony during Wills and Kate's big day will be attending the Abbotsley Feast Week & Scarecrow Festival this week. Only it's not what you think. Findlay Farmer has replicated that famous scene in a banner hung on a wall of a former pub, all in celebration of the annual scarecrow fiesta, which takes place in the tiny Cambridgeshire village.
Read More
Filed Under: