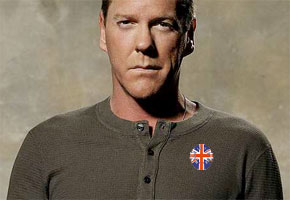 When you get right down to it, nationality is just an accident. Your parents happen to have been in a place and you were born while they were there. They may have decided to stay there, or may have moved somewhere else, and you'll have picked up various influences from the place or places that you have lived along the way.
Kiefer William Frederick Dempsey George Rufus Teleportation Fishcake Sutherland* is a Canadian man who was born in London and lived in Los Angeles until he was nine. He finished his education in Canada, then moved back to L.A. to start his acting career. His parents, Donald Sutherland and Shirley Douglas, were in London because of work, and yet now, if he wanted to, he could apply for British citizenship.
And if you look over his career, it's kind of fitting that this should be the case. Keifer does have the kind of resume you'd associate with a British actor. Played a few villains, tends to be good at taunting people, has grown stubble in order to play a hard-boiled but unlucky professional in the emergency services for a hit TV show. Apart from all the punching and rolling around, he's basically Hugh Laurie, Dominic West or Idris Elba, only with a better North American accent.
Here he is, back home in old Blighty, discussing his time in prison with fellow British citizen Jonathan Ross.
Fits in rather well, doesn't he?
* Only two of those middle names are not real.
Read More
Filed Under: