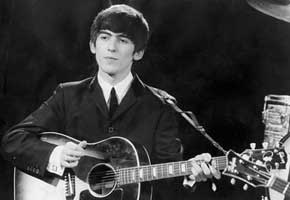 • Beatlefans! There's a new George Harrison documentary on the way, which will feature footage from his personal home video collection. George Harrison: Living In the Material World is a two-part epic, due to be shown in October. It's been produced by Martin Scorsese for HBO, and will run for a total of three and a half hours. Contributors include Paul and Ringo, and Yoko and George Martin, as well as Eric Clapton and other famous friends and family. (via Yahoo! UK)
• Sharon Osbourne is celebrating after her $323,052 (£200,000) wedding ring, which was stolen, was recovered thanks to the efforts of the BBC TV show Crimewatch and her extremely eagle-eyed daughter Kelly. (via The Sun)
• Kelly's not having a bad time of it at the moment, as she was also recently mistaken for Lady Gaga, while having a fitting at Dolce and Gabbana in London. Despite their obvious facial differences, and the fact that Gaga is currently in Australia, fans actually mobbed her. Weird. (via Contact Music)
• JK Rowling's former abode is hitting the real estate market. BBC News reports that the three-bedroom Church Cottage in the Gloucestershire village of Tutshill, where Rowling resided prior to heading to college, features several of the nook and crannies (a trap door, a cupboard under the stairs) that are featured throughout her beloved Harry Potter book series.
• Speaking of all things Harry Potter… this is a kind of unthinkable madness, courtesy of Tom Felton, a.k.a. Harry Potter's Draco Malfoy: "We all feared that after the fourth film that they were going to get rid of us and start again with new kids."
What? I mean… WHAT?
"So yeah, we're very proud to have made it all the way through, so to speak."
Can you even begin to imagine how bad that would've been? (via Digital Spy)
• When NASA's Atlantis rocketed into space for the final time late last week (July 8),
Sir Elton John had some friendly words for the astronauts aboard, The Press Association reports: "Good morning, Atlantis, this is Elton John. We wish you much success on your mission and a huge thank you to all the men and women at NASA who worked on the shuttle for the last three decades." Now how cool is THAT?
• Oh Charlotte Church, what ARE you doing? It's fine to go out and get wassocked and then sneak off to a quiet spot with your fella for a little "alone time." Everyone does it at one time or another. The thing to remember to do, especially in the era of phones with video cameras in, is to remember to pull your underwear back up. That is all we ask. (via The Daily Mail, thankfully they don't have the video)
• Welsh songstress Duffy was recently bestowed with an "honorary fellowship for her services to music" by Bangor University.
• U2 guitarist The Edge has fired off an angry letter to The Baltimore Sun after they published an attack on the group by a reader, who takes issue with their current tax arrangements.
• Nick Frost has signed on to play a dwarf in next year's Snow White and the Huntsman. The Shaun of the Dead and Hot Fuzz star, who will appear alongside Ray Winstone, Bob Hoskins, Ian McShane and Stephen Graham, took to Twitter on Wednesday (July 13) to share his excitement: "I can however confirm I'll be dwarfing it up in Snow White and the Huntsman! Nasty hobbits. #wrongfilm"
• Remember when David Gilmour's son, Charlie, swung from a Union Jack flag at London's Cenotaph memorial during last winter's student protests over increased university costs? Well, he was later charged for that and some additional unruly antics. And this week, he's in a south west London court facing sentencing over allegedly "throwing a bin" at Prince Charles and Camilla's Rolls Royce.
• Travis frontman Fran Healy enjoys chatting it up on Twitter, but Facebook is another story. He finds it "annoying" and just recently, he suspended his personal page.
• And to round things off, here's the trailer for Contagion, the new Stephen Soderbergh film which asks the question, what if the bird flu epidemic was even more deadly and contagious than media reports suggested it was. There's an all-star cast, including Jude Law and Kate Winslet, and they all look rough and poorly. And not just Hollywood rough either. Take a look:
Read More
Filed Under: