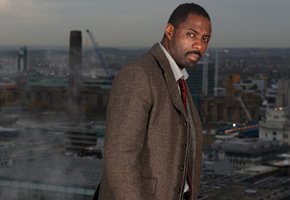 The Primetime Emmy nominations were announced this morning (July 14), and congratulations to Idris Elba, star of BBC America's six-part crime thriller Luther, for his nomination for Outstanding Lead Actor in a Miniseries or Movie. This follows Elba's Golden Globe nomination back in December for his role as the grizzled detective. In his category, he faces The Kennedys' Greg Kinnear and Barry Pepper, Carlos's Edgar Ramirez, Too Big To Fail's William Hurt, and Thurgood Marshall's Laurence Fishburne.
Elba, who will host BBC America's drama block Dramaville starting next month, was also nominated for Outstanding Guest Actor in a Comedy for his role on Showtime's The Big C.
In other news for fans of UK TV, Downton Abbey scored a nomination for Miniseries or Movie, where it competes against Starz's Brit-packed The Pillars of the Earth. Abbey's American lead, Elizabeth McGovern, is up for Lead Actress in a Miniseries or Movie, with Mildred Pierce's Kate Winslet and Upstairs Downstairs legend Jean Marsh also in her category. (Will Oscar winner Winslet win in a walk? Say that five times fast.)
Check out the Supporting Actress in a Miniseries category: it's a battle between the grandes dames, Downton Abbey's Maggie Smith vs. Upstairs Downstairs's Eileen Atkins. Their competitors in the category are a trio of Mildred Pierce stars, Evan Rachel Wood, Oscar winner Melissa Leo, and Mare Winningham.
Oh, and big news: Doctor Who visionary Steven Moffat's writing for Sherlock was nominated! The first miniseries, A Study in Pink, managed four nominations in total, but none for its brilliant stars Benedict Cumberbatch and Martin Freeman.
In the Drama Series categories, Hugh Laurie received his sixth nomination for House. With Breaking Bad's three-time winner Bryan Cranston out of the way, might he have a chance to take home his first award this year? Brits Kelly MacDonald (Boardwalk Empire) and Archie Panjabi (a winner last year for The Good Wife) are both up for Supporting Actress in a Drama. Panjabi's Good Wife co-star, Alan Cumming, was nominated in the Supporting Actor field.
And finally – FINALLY – the Emmys reward British beauty Cat Deeley for her warm, charming work hosting So You Think Can Dance. (Deeley showed off her skills hosting BBC America's Royally Mad back in April, prior to the royal wedding.)
For full nominees, click here. Fox will air the 63rd Annual Primetime Emmys on Sunday, September 18.
Who do you think should win Emmys this year?
Read More
Filed Under: