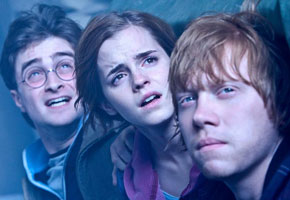 It was quite a scene at Lincoln Center in New York where throngs of screaming fans had congregated for the final premiere of a Harry Potter film in the city.
They stood in blistering heat to witness the stars from the British film series as they walked the red carpet. Some had camped out – and a few had come from as far away as Japan and Australia.
Daniel Radcliffe looked cheerful, but there was a tinge of sadness. He told me how he'd miss being with his colleagues on the Harry Potter set: "I worked with that crew, which was a lot of the same people, year in, year out. It was my day to day life to see all of them  – so to be in a world where I'm not seeing them will be strange."
Harry Potter and the Deathly Hallows: Part 2 might mark the end of a world famous movie franchise, but one of the premiere's big name guests, Whoopi Goldberg, was full of anticipation. She's clearly an ardent fan of Harry Potter author JK Rowling.
She said, "I want to see what JK is going to do next, that's what I want to know! I want to know what has she got going on. I love the way she writes because she writes for people to actually read the books, and not just skim them, but read them and I love that."
As the series draws to a close, the final Harry Potter picture caps an impressive cinematic achievement. For ten years, the films have been delivering their own brand of well-crafted magic — and making a lot of money. The seven Harry Potter pictures released so far have grossed more than $6 billion internationally, a figure that has made Warner Bros., the studio backing Harry Potter, extremely happy. The franchise has become the most successful in box office history, outdoing the James Bond and Star Wars films.
Read More
Filed Under: