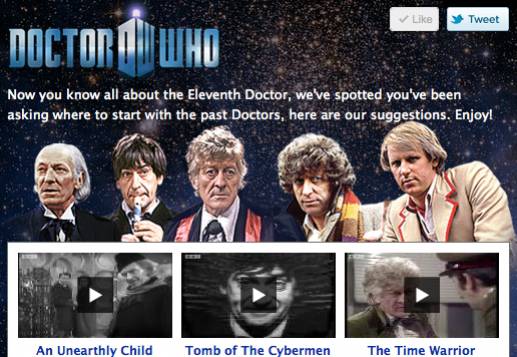 Well the first and biggest story is of course that Whovians can now "rent" whole Doctor Who stories via Facebook, in a new deal with BBC Worldwide.
Using Facebook credits, the official Doctor Who page is streaming one digitally remastered story from each of Doctors (minus Paul McGann and current Time Lord Matt Smith), including the very first Who story, An Unearthly Child.
And there's a chance to see the Seventh Doctor story The Greatest Show In The Galaxy digitally, for the first time since broadcast, as it's never been released on DVD.
John Smith, Chief Executive at BBC Worldwide said, "We see this service as a perfect way to give our fans what they want, as well as a great way for them to get their fix between now and the autumn when series six continues."
Find out more at the Doctor Who Facebook page.
• We are just 12 days away from seeing Matt Smith and Karen Gillan take the stage at the San Diego Comic-Con. And don't forget, the Eleventh Doctor will be joining other big TV names like Johnny Galecki (The Big Bang Theory), Zachary Levi (Chuck), Joe Manganiello (True Blood), among others, for TV Guide's "Fan Favorites" panel on July 21. Should you want to get a jump start on the Comic-Con craziness, why don't ya check out this awesomely cool interactive schedule app.
• The Doctor Who Fan Orchestra is an amazing project that features musically-talented Whovians collaborating online. Here's their version of Murray Gold's "I Am the Doctor" (via Doctor Who News)
• From time to time, we feature various homemade TARDIS replicas. Some show up in random backgardens, while others land at wedding receptions. Our latest discovery comes from Yeovil, England, where Jai Axe was presented with his own royal blue police box thanks to his grandfather, Mike. (via This is Somerset)
• Doctor Who executive producer Beth Willis is stepping down after two years with the show, as Digital Spy reveals that she'll head back to Kudos Film and Television this fall. Steven Moffat is a bit verklempt about her departure: "Well we couldn't keep her forever, though God knows I tried," he said in a statement. "Beth Willis is off to be brave and brilliant in brand new ways, and the sad news for 'Doctor Who' is that from now on it will be somewhere else."
He continued: "This show owes more to her fearlessness and honesty than I have time to explain… and [we all] wish her the very best at Kudos."
• If you've ever felt that the daleks are all very scary and stuff, but not the kind of creature anyone could envisage cuddling, you could be in luck. New cuddly daleks are being released alongside a cuddly TARDIS, for all of your snuggly bedtime alien invader needs. You have those needs, right?
• Oh and speaking of dalek toys, wouldn't you LOVE to fit into one of these?
• Matt Smith and his longtime girlfriend, Daisy Lowe, were spotted at Paris Couture Week last week, looking FAB-U-LOUS. They always look good, don't they?
• We've been attempting to help anyone who's planning to come to Comic-Con dressed as one of the Doctors, by publishing a series of blogs explaining how their respective costumes work, and what you'll need to buy. Have a look at How To Dress Like The Doctor, and see if you can't pull off a convincing Troughton or Pertwee.
• Talk of the devil, this week's Den of Geek profile is of Jon Pertwee, the dandyish Third Doctor, who they quite rightly claim managed to play the role as a mixture of both Jeeves and Wooster.
• Think you have the greatest collection of Doctor Who souvenirs? Perhaps you'll want to add these incredible paper dolls to your lot? You've got the Eleventh Doctor and his loyal companion, Amy. Plus, the Tenth Doctor is there. Wonderful stuff!
• Speaking of souvenirs, have you seen the haul of astonishing things in this collection? They've manage to get hold of all sorts of props from the original series' including Tom Baker's hat, cybermen costumes, and the actual Key to Time, some of which were rescued from a skip. A SKIP though!
• And finally, we've been hard at work on a definitive guide to the Doctor's traveling companions, starting with Jo Grant and Leela. It's going to take AGES, but it'll be worth it. Have a look.
Read More
Filed Under: