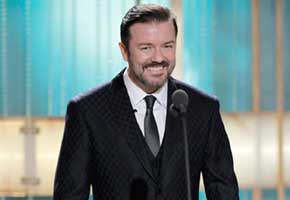 To coincide with our "Where Are They Now?" homage to the cast of the British Office, which marks its 10th anniversary this weekend, we'd like to tip our hats to the one and only Ricky Gervais.
Most of us will agree that the 50-year-old British funnyman has made this world a better place with his countless one-liners and other acerbic remarks on life, fame, and whatever else he chooses to focus his withering gaze upon. And gathering every single entertaining thing he's ever said, both on and off screen, would certainly amass a list that stretches for miles. So yes, we'd like to share some our of personal favorites. Here we go.
• "I've created an atmosphere where I'm a friend first, boss second. Probably entertainer third." – as David Brent on season 1, episode 3 of the British Office
• "Trust, encouragement, reward, loyalty… satisfaction. That's what I'm…you know. Trust people and they'll be true to you. Treat them greatly, and they will show themselves to be great." – as David Brent on season 2, episode 2 of the British Office
• "I'm not from these parts. I'm from a little place called England – we used to run the world before you lot." – 2004 Golden Globes
• "Money gives me the creeps and mildly embarrasses me. I get paid too much anyway." – The Daily Mail, 2008
• "I have plenty of pet hates. I can't stand people scraping their plate or slurping their soup. I can't stand waiting in lines. I hate people talking inanely about the Lord of the Rings. I hate people whistling. But I'm not like this because I'm famous. I've always been a grumpy bastard." – The Daily Mail, 2008
• "Oh, these actors who ask, "What's my motivation?" all the time. Who cares? I'll tell you what your motivation is: it's the only thing you can do, and you're getting paid to do it, so shut the hell up!" – via IMDB
• "It's going to be a night of partying and heavy drinking. Or as Charlie Sheen calls it: Breakfast." – 2011 Golden Globes
• "Just looking at all the faces here reminds me of some of the great work that was done this year . . . by cosmetic surgeons." – 2010 Golden Globes
• "The truth doesn't hurt. Whatever it is, it doesn't hurt. It's better to know the truth." – Inside the Actors Studio, 2009
• "I've never regretted turning money down. I don't do anything for the money. It bores me." – GQ, April 2006
• "I can have a go at the French cause I'm half French half English with a stupid name like Gervais. No I am, I'm half French half English and um I've got qualities of both, French and English which is good, so um… I am crap in bed but at least I've got bad breath." – From Animals
• "I say tour, L.A. and New York, they're the main two. I didn't do the middle bit, um. Nothing wrong with the middle bit, if you're watching the DVD. I love the middle bit, I love the middle bit. I love all of America." – From Out of England
• [Whenever I hear] "someone in TV or a comedian called a 'genius,' I think, Medicine lost another one. You mustn't put even someone as great as Larry David alongside Newton. – Esquire, January 2011
• "You have options. You can either continue to be miserable or you can just stop being angry at everyone and accept the way things are. Allow yourself to live." – Ghost Town, 2008
• "Be careful with the language. Screw, damn, and bloody do not a sermon make." – Xfm, January, 19, 2002
Ok, what'd we miss? Tell us here.
Read More
Filed Under: