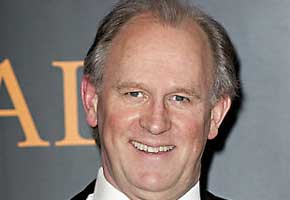 Peter Davison has revealed that there's another member of his family who'd like to find their way to Doctor Who. We know him best as the Fifth Doctor, of course. And his daughter, Georgia, played David Tennant's Doctor's clone daughter on the show shortly before falling in love with David himself.
Peter told The Press Association (via Yahoo! UK News): "My nine-year-old grandson Tyler [Georgia's child from a previous relationship] has ambitions of being The Doctor. There are an awful lot of young people lining up to play that part, though, so it may be difficult."
If he was seeking to give pointers, Peter could do worse than point Tyler in the direction of this week's Den of Geek Doctor appreciation blog, which is devoted to Patrick Troughton: Doctor No. 2.
• In case you forgot to set your DVRs, "The Doctor's Wife" scribe Neil Gaiman paid a visit to the The Late Late Show with Craig Ferguson last Tuesday (June 28). Around the 4:18 mark, he and CraigyFerg geek out over Doctor Who, of course. Their mutual admiration for the Eleventh Doctor, Matt Smith, is quite entertaining. Plus, Gaiman's story of how he first came across Doctor Who as a little kid in nursery school is absolutely charming.
http://www.youtube.com/watch?v=Xlx1ju7V9Aw&feature=player_embedded
• Dean at Springfield Punx Simpson-nizes the Tenth Doctor and his crew, and the gang's all there: Donna Noble, Martha Jones, Rose Tyler and Captain Jack Harkness, and even the little pudgy Adipose.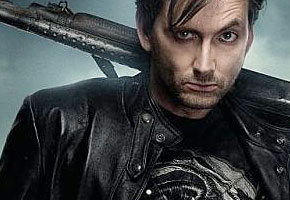 • David Tennant also appears in his own character poster for the movie Fright Night, in which he's looking rather predatory, to say the least. (via Den of Geek)
• Current companion Karen Gillan was in her hometown of Inverness, Scotland over the weekend, BBC News reports. The 23-year-old ravishing redhead made a return to Eden Court, where she studied drama back in the day, to hand out awards to fellow London Academy of Music and Dramatic Arts students. "I am pleased and proud to be able to come back to Eden Court and help with the Lamda awards," Gillan said. "I did so much stuff at that theatre over the years so it was great to be back. It was very special."
• Speaking of Miss Gillan, we are counting down the days to July 24, when she and Matt Smith will make their first-ever appearance at the San Diego Comic-Con. Who's going?
• It's been quite some time since Paul McGann stepped into the TARDIS. The Liverpool-born actor's one and only visit to the Whoniverse was in 1996, when he played the Eighth Doctor in the Doctor Who television movie. And there was some thought that McGann might end up starring as the new Doctor when Russell T. Davies brought the series back to life more than half a decade ago. But for McGann, there's no love lost, as he told Official London Theatre recently that he couldn't have handled the popularity that David Tennant received once becoming the Tenth Doctor. "[David Tennant is] fantastic of course and he's obviously got a great sense of humor about everything. Chris [Eccleston], I think, seemingly found it tricky. I think I probably would have been more like Chris. I like my privacy."
• Doctor Who News reports that the newest issue of Doctor Who magazine pays tribute to the one and only Brigadier Alistair Gordon Lethbridge-Stewart, Nicholas Courtney, who passed away in February.
• Torchwood: Miracle Day is nearly upon us, so here's Bill Pullman explaining his crucial early role in proceedings. He plays a very bad man who is among the first to discover that he can't die. It's a bit spoilery (without giving away too much plot), so be careful. (via Digital Spy)
Read More
Filed Under: