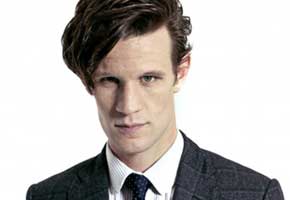 After finishing work on the current season of Doctor Who, Matt Smith is set to star in a new BBC drama called Bert And Dickie, about the 1948 London Olympics, in which he plays the gold medal-winning British rower Bert Bushnell, who died last year.
Bert, who came from a humble background, left school at 14 to become an apprentice engineer in Southampton. Having been brought up on the Thames, he was a skilled oarsman from a very young age, and was considered (not least by himself) as the finest single sculler in Britain. His partner in the double sculls rowing event was Dickie Burnell, a graduate first of Eton and then Oxford University.
Speaking about their different backgrounds, Bert remembered: "We had never rowed together before and we were chalk and cheese. Dickie was Eton and Oxford, and I was Henley Grammar School. There was class tension all right, and it came from me being bloody awkward."
So the drama will focus on how the two men, from such different backgrounds worked together to form a winning team. And if that sounds a little like The King's Speech in rowing boats, well maybe that's what it will be.
In any case, as soon as his Doctor Who commitments ceased, Matt had to rush off and learn how to row so well that he can pass musters as an Olympic champion. So he's been training and building up his muscles.
The good news is that as soon as he's finished filming this project, he's back to the TARDIS again, which raises the question, are we going to see our very first properly buff Doctor?
Read More
Filed Under: