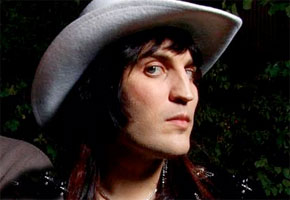 Normally, the kind of astonishing gossip that emerges from Wimbledon tends towards stories about people eating nine strawberries in one go, a lady sitting in the wrong seat, or an American player bringing an entire Winnebago onto Centre Court.
But yesterday, yesterday was a different matter entirely. Not one, but TWO astonishing things happened yesterday.
The first, and for a non-sportsman such as myself, the best, occurred when Alex Bogomolov Jnr, who had just lost a point, had himself a little temper tantrum, as tennis players sometimes do. He hurled his racket down furiously, only to find that… well, maybe it's better if you watch this to see what happened.
http://www.youtube.com/watch?v=sEkD0NiU7ys&feature=player_embedded
And the second, which is still pretty wonderful, occurred when former Wimbledon champion (and BBC sports pundit) Boris Becker saw that Noel Fielding of the Mighty Boosh was sitting in the crowd watching Rafeal Nadaal play Michael Russell. Not being a Boosh fan, Boris was confused by Noel's androgynous beauty, and had to ask his colleagues "that's not a girl, right? That's a man?"
For his part Noel, who was interviewed by the BBC later, had this to say:
http://www.youtube.com/watch?v=RYv4g3tg3jA
NOTE: Angel Delight is a kind of dehydrated dessert you can make with milk.
Read More
Filed Under: