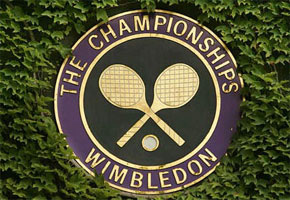 This week sees the start of Wimbledon, the most famous tennis championship in the world, and the only one of the four Grand Slam tournaments that takes place on grass. This is significant only in that the sport was originally called Lawn Tennis, and was designed to be played on, y'know, a LAWN. Which means a win at Wimbledon is effectively a win at the sport as she should be played. These things matter to hardened tennis nuts.
Anyway, for those of us who are less than rabid on the topic, we've compiled a brief document explaining a few things about the tournament. Consider it part glossary, and part history, A glosstory, if you will:
The All-England Lawn Tennis and Croquet Club
The organization that ran the very first lawn tennis championship (with grass courts, let's not forget) back in 1877, and still runs it today. The club is also the venue for the championship.
Wimbledon
Confusingly, the All-England Lawn Tennis and Croquet Club is not actually IN Wimbledon. Or at least, that's not the nearest tube station. By rights the entire tournament should now be called Southfields, as that's the part of London in which it takes place.
Centre Court
In the early years of the tournament, when the Lawn Tennis Club was located in Wimbledon's Worple Road, the arrangement of the courts was such that there was one central court and all of the others were splayed out around it. Consequently all finals were played on this centre court. When the tournament moved to Church Road, the courts were arranged in more of a grid-like formation, but the main spectator court retained the name Centre Court, even though it was no longer in the centre. This changed again in 1980, when four more courts were added, making Centre Court central again. Centre court is the only playing area which has been fitted with a roof (it's retractable) so that rain cannot stop play.
Dress code
It is not considered to be good enough that you can hit a 90 mph backhand with pinpoint accuracy, you have to adhere to certain rules about appropriate attire while competing, or there will be stiff punishments. All competitors are expected to play in white (or as near to full white as possible). Thankfully the rules are not quite as stringent as they were years ago, or the gentlemen and ladies would also be expected to play in flannels.
Ball boys/girls
A small army of around 250 local schoolchildren are recruited to serve as ball-fetchers for the tournament. It's considered to be a huge honour to be picked, and they work in crews of six. Two at either end of the net, and four in the corners of the court.
Debentures
Not, as you may think, the sound of a toothless man asking for his dentures, the Wimbledon debentures are a five-year investment bond that tennis fans pay which helps to raise funds for the club. For each year of the debenture, investors receive two free tickets to the tournament. They are allowed to sell these on if they wish, something which is not extended to non-debentured ticket holders.
Ticket Touts
As with all major sporting and cultural events, the more that people wish to get in, the more chance there is that there will be ticket touts outside the venue, offering you the best seats in the house at a colossal markup. Be warned, some of their wares might just be colour photocopies.
Camping
Due to the way in which Wimbledon tickets are allocated, there is now a tradition whereby fans will camp out in a queue overnight, in order to be among the first to secure tickets to one of the show courts. This is now such a firm part of the Wimbledon experience that the club has laid on special facilities, including the storage of bulky luggage such as tents, and running water, for overnight campers.
Cliff Richard
In the years before Centre Court got its retractable roof, the periods of rain stopping play were characterized by a lot of boredom and a fair amount of grumpiness, given the privations some people had suffered in order to be there at all. One year, during a downpour, British pop star and tennis fan Cliff Richard got hold of a PA microphone and entertained the crowd with a little sing-song of some of his greatest hits. Even though he's a Wimbledon regular, this has never been repeated, if only because it would ruin the memory of a magical moment in Wimbledon folklore.
Henman Hill
This is a vantage point within the club, but outside of the showcourts, where there's a big TV screen from which it's possible to watch matches unfold. Officially called Aorangi Terrance, it picked up the nickname during the giddy years when Tim Henman was still England's great hope for a Wimbledon winner. Of course, we haven't really fielded a serious contender for many years (the last English male winner was Fred Perry, in 1936), but that doesn't stop people wanting to believe that we can. Which means every UK entrant is put under preposterous pressure from the moment the tournament begins. They're always well supported by the partisan crowd, of course, and this is where the name came from. As Tim prepared to serve, or receive service, four or five bullish voices would yell out "COME ON, TIM!" in a back-slapping, never-mind-you'll-get-the-next-one sort of way. The press called it Henmania, although it could just have easily been called The Timpossible Dream.
Strawberries and Cream
The temptation to claim that this is some form of cockney rhyming slang for, say, the upholstery on the seats (strawberries and cream = seam) is almost overwhelming, but I shall resist. So, to have the full Wimbledon experience you need to have camped out overnight, you need to have managed to get your Centre Court tickets (via a brief spell shouting at the telly on Henman Hill), you need to be drinking champagne, and you need to eat some strawberries and cream. Strawberries and cream are to Wimbledon what the meat pie and cup of Bovril are to football. It's the appropriate foodstuff, and a tradition that goes back pretty much to the beginning of the tournament. And best of all, the sugar, potassium and fat content will give you a little lift if you're feeling sleepy after a hard night on the pavement.
Will you be watching Wimbledon? Tell us here.
Read More
Filed Under: