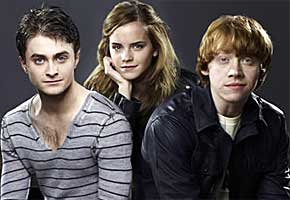 I have a question for you. Is Harry Potter still essentially a children's story? I only ask because it's been 14 years since the first book came out, which means anyone old enough to read it at the time will now be well into their twenties. Some may be nearly 30. Heck, even the films are 10 years old now.
And certainly, if you follow each story in sequence, the themes get a little more adult, to match the changes happening in the lives of the central characters. By the end of the last book, it no longer matters who wins the house cup, for example.
So, the question is this, when Ron Weasley's mum faces off against Bellatrix Lestrange to defend her daughter Ginny, in the second part of the movie version of Harry Potter and the Deathly Hallows, should she be allowed to say the decidedly grown-up line which appears in the book?
Daniel Radcliffe certainly thinks so. He told Empire magazine: "I've always been very against any swearing in these films and I don't know why because I swear much more than I should in real life. But if the, 'Not my daughter, you bitch' line is in the book, then that's fine."
As an aside, I'd like to point out that the Harry Potter films do already feature Ron Weasley swearing from the get-go. He says "bloody hell" fairly consistently from the first film onwards, and tells Harry to "p*** off" in the fourth. I blame the parents.
Julie Walters, who will be delivering the line if it's allowed, had this to add: "She [Mrs Weasley] has one of the most famous lines in the books. Everyone wrote to me and said, 'I hope they're not going to take that out, are they!?'"
Should they take it out? Tell us here.
Read More
Filed Under: