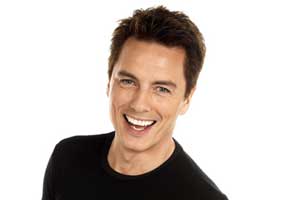 After reading such a headline, adoring Whovians are probably squealing with glee over the prospects that John Barrowman could one day return to the land of Doctor Who. But according to him, the only question is when.
In a recent interview with Zap2It, the Torchwood hottie teased that "it's in the cards."
"I've always said that if I'm asked to go back to 'Doctor Who,' I'll go at the drop of a hat," he explained. "That's where Captain Jack got his beginnings. And it's already been discussed."
The last time Doctor Who saw Captain Jack Harkness was in 2010 when he appeared in the two-part special, The End of Time. Prior to that, he guest starred in 2008's Journey's End. And yep, Barrowman went on to confirm that lead scribe Steven Moffat and Torchwood executive producer Russell T. Davies have had a few pow-wows about having him on the show again.
Should Captain Jack re-emerge in a future episode, how will he get on with the Eleventh Doctor played by Matt Smith?
Barrowman said: "I like Matt Smith. He brings his own quirkiness to it… When a new Doctor starts, everybody goes along for the journey because they love the show. But then you attach yourself to that Doctor. There's a whole new generation who are now attached to Matt, and rightly so…. but David Tennant is my Doctor."
Whether or not it pans out, we'll have plenty of chances to catch Barrowman on TV this summer when Torchwood: Miracle Day premieres July 8 on Starz. And you can catch Doctor Who's mid-season finale "A Good Man Goes to War" this Saturday (June 11) at 9 pm ET on BBC America.
Read More
Filed Under: