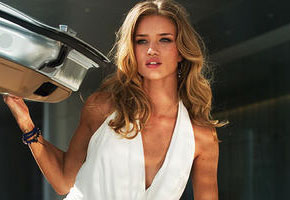 As Transformers: Dark of The Moon opens up at hundreds of American cinemas, British model-turned-actress Rosie Huntington-Whiteley is hoping audiences will like her in her first big onscreen role.
As she walked the red carpet at the film's New York premiere she told me: "I hope everybody enjoys me in this movie — that would be the greatest payoff for me."
The 24-year-old Victoria's Secret model stars opposite Shia LaBeouf in a film many expect will become one of the summer's biggest blockbusters.
Huntington-Whiteley has replaced Megan Fox, who had the female lead in the previous two Transformers films.
But some assessments of her acting haven't been too flattering.
Baz Bamigboye, showbiz columnist for Britain's Daily Mail, wrote that someone at his screening joked that "Rosie makes Megan's acting look as good as Kate Winslet's."
When asked how she rates her own performance, Huntington-Whiteley replies: "It's very hard to watch yourself, and it's a very new experience for me. I think I did the best I could, and I'll always feel proud of that."
The actress intends to stay in the movie business. She says, "I would very much like to make another movie. I have no idea what it's going to be. I'm working towards that and I'm very excited to see what the future holds."
Read More
Filed Under: