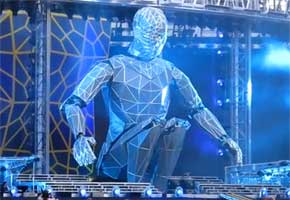 Take That are just over a week into their sold-out summer tour of the UK and Europe and they've already run into a wee bit of trouble.
No, there's no behind-the-scenes bickering going on, but on Saturday (June 4), The Sun reports that Mark Owen and Howard Donald ran into some serious technical difficulties at City of Manchester Stadium thanks to the band's elaborate tour stage robot. Before getting into some of the details, please take a look at this larger-than-life beast, whom the band calls Om. And keep in mind that it stands 100 feet tall.
So yes, when Take That was finished singing their X-Men: First Class single  "Love Love" in front of thousands of crazy Thatters, Donald and Owen ended up stranded on the palms of this thing, 10 feet above the stage. Consequently, they were then forced to launch into "Never Forget" without standing alongside their bandmates, Gary Barlow, Jason Orange and Robbie Williams. A few fast-thinking roadies luckily grabbed some ladders and rescued Donald and Owen soon thereafter. Check out some of the fan videos below.
Read More
Filed Under: