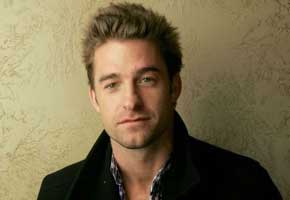 Ah yes, Scott Speedman. We know this dirty-blonde looker well, don't we? Between 1998 and 2002, we fell head over heels for this guy when he played the mysterious and somewhat complex Ben Convington on the WB hit drama, Felicity.
And on the silver screen, Speedman has seduced us (and Kate Beckinsale's Selene) as the sexy werewolf Michael Corvin in 2003's Underworld and 2006's Underworld: Evolution. Oh and let us not forget his character Bernard 'Boogie' Moscovitch, the best bud of Paul Giamatti's Barney Panofsky, in Barney's Version.
But did you know that this ruggedly handsome actor is a true Brit? Speedman was born to Scottish parents in London in 1975, but grew up in Toronto, where he excelled in swimming as a teen. He also tried out for the 1992 Olympic trials, but a neck injury eventually forced him out of the water. Lucky for us, he turned his head toward acting and honed his skills as a student at the University of Toronto and York University. Next February, he'll star opposite Rachel McAdams and Channing Tatum in the Michael Sucsy-directed (Grey Gardens) romantic drama, The Vow.
Are you loving our "Secretly British" posts? Here's Some Awesome blogger Liz Miller shared some love via Twitter recently, as did The New York Post. Hooray!
We'll be outing more "Secretly British" celebs in the coming days. Tweet us @anglophenia your favorite undercover Brits using the #SecretlyBritish hashtag.
Read More
Filed Under: