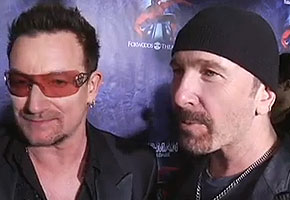 It's finally over. One of the longest and most tortuous preview periods of any show in Broadway history has come to an end with the official opening of Spider-Man: Turn Off The Dark.
After actor injuries, numerous technical glitches, and several postponed openings the curtain has risen at New York's Foxwoods Theatre and U2's Bono and The Edge, who co-wrote Spider-Man's music and lyrics, believe they have a hit.
Broadway's most expensive musical has so far cost an estimated $70 million. On the red carpet the U2 frontman was really selling his show. He told me: "I'm absolutely sure this is a hit. What we know from people coming out the door every night is that it's a hit."
But not everyone is convinced. America's most influential theater critic, Ben Brantley of the New York Times, has written that the newly revamped musical has moved from "jaw-dropping badness to mere mediocrity."
Bono, who's well aware of the criticism that's swirled around the show since it began previews last November, says: "You do get a little bit spanked around here for doing something new and different. We've come with something innovative, songs we really believe in, and this magical surreal piece of theater, for some people — it's not going to be their cup of tea."
Bono maintains that he's not thinking about all the angst that he — and his collaborators — have gone through to get the show off the ground: "Seeing it a few days ago, I completely forgot about it. I'm used to going in as a critic and beating it up. I just became a fan just this week and now we're overjoyed."
Despite Bono's enthusiasm, it may be tough for Spider-Man to make money. It could become a real crowd pleaser. But the show's weekly operating costs are extremely high and the producers will have to rely on packed houses every night to recoup their losses and turn a profit.
Are you interested in seeing Spider-Man: Turn Off The Dark? Have you already seen it? Tell us.
Read More
Filed Under: