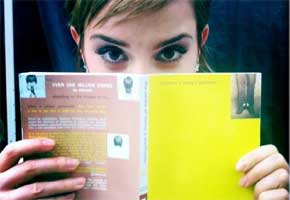 It seems the world is just as interested in the education of the actress Emma Watson as they were in the schooling of her Harry Potter character Hermione Granger.
First there was the breaking news that she'd left Brown University, which Emma now hotly denies had anything to do with bullying.
She told the Sunday Times that the real reason was she hadn't really allowed herself to accept that, even when studying, she was still in the public eye.
She said: "I was in denial I wanted to pretend I wasn't as famous as I was. I was trying to seek out normality, but I kind of have to accept who I am, the position I'm in and what happened."
"It made me so sad when all this stuff came out that I left Brown because I was being bullied. It made no sense at all. Brown has been the opposite. I've never even been asked for an autograph on campus. I threw a party for nearly 100 students, and not a single person put a photo on Facebook."
"Anyway, even if I was being given a hard time, I wasn't going to wuss out of university because someone said 'Wingardium leviosa' to me in a corridor, or 'Ten points for Gryffindor.'
"I've been dealing with the media since I was 9. If I can't stand up to a few people giving me a hard time, it's a bit pathetic, really. I've had so much worse."
And now, according to the Mirror, she's looking likely to resume her studues in a University which is closer to home, Oxford's Worcester College, which she'll be attending on a transfer from Brown.
Not that this has stopped her from working. She's still in the middle of shooting The Perks of Being a Wallflower, and has the final Harry Potter film to promote.
Oh wait, you already knew about that last thing, right?
Have you ever been tempted to shout a famous person's catchphrase at them? Tell us here.
Read More
Filed Under: