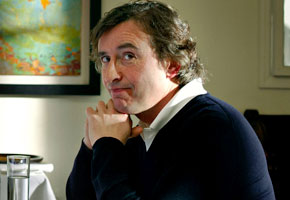 While British comedian Steve Coogan has made several forays into American movies — he took the lead in the high school comedy Hamlet 2 and had featured roles in big budget films like Tropic Thunder — he seems most comfortable and successful in British films. "I don't think I'll ever be an American movie star. I think I've let that go," he says.
Even though his career is going very well in Britain, he finds getting older rattles him: "I'm a little bit anxious. There's a lot of scripts that are about guys in their mid-thirties, and I'm in my mid-forties, so you see that boat sailing away without you."
But as he points out: "I'm doing a lot of things. I'm very busy. Whatever sort of twists and turns my careers has, I try to put a positive spin on it."
Coogan thinks his new road-movie The Trip, out on Friday (June 10), will resonate with American audiences despite its British cultural references.
Coogan says: "It's not super-esoteric, and there's a chance for a wider audience. I think it's different and interesting."
The film, directed by Michael Winterbottom, stars Coogan and fellow comedian Rob Brydon as combative friends on a restaurant-reviewing trip in the north of England. Much of the dialogue is improvised.
The Trip first appeared last year in the UK as a six-part BBC TV series, and the new feature film is essentially a compilation of the episodes.
Coogan's performance in The Trip recently brought him a BAFTA award. One or two critics have carped that the humor in the film is at times self-indulgent but the picture arrives in America this week on the heels of some very flattering film festival reviews.
Does Steve Coogan have what it takes to be a huge American star (like his compatriot Ricky Gervais)? Tell us.
Read More
Filed Under: