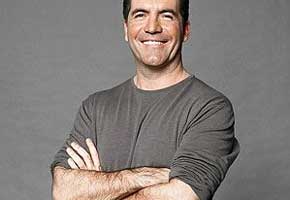 Simon Cowell has finally broken his silence on what happened to Cheryl Cole and the US version of the X Factor, and of course, being Simon Cowell, some of what he had to say is infuriating. That's his job.
As part of the final announcement that Nicole Scherzinger will be replacing her permanently, he revealed that Cheryl got her marching orders not because of her accent or because of some scheming network executive, but because he, Simon, decided that she was not comfortable away from the UK.
He told the press (as reported in the Mirror): "This has been a rough two weeks. The hardest thing to accept is that everyone has painted me as a monster because I embarrassed her. But the truth was I was protecting her.
He explained that it was her performance at the Chicago auditions which let her down: "Knowing Cheryl like I know her, we noticed she was quieter than normal, looked a bit uncomfortable, but I put some of this down to nerves. The overall feeling was that she was slightly out [of] her comfort zone in America, compared to what she was in the UK. It was nothing to do with her accent."
"And it wasn't that she was terrible – she was good – I just thought she'd be happier in the UK. America is a bearpit and it's tough to crack when no-one knows you."
Not that he said any of this to Cheryl herself, letting the show's executive producer, Richard Holloway take that particular bullet: "Cheryl has a very good relationship with Richard. I wasn't the right person. I felt she would be more comfortable to hear it from him. I felt she would be more embarrassed if she heard it from me. She would be able to look at things clearer."
And he revealed that she had turned down his offer to return to the US show AND take her place on the UK panel too. The idea was that she would make a surprise entrance at the Birmingham auditions last week, but once the press got wind of it, that was that.
Simon said: "We genuinely thought it was going to happen. But the big condition was that it was to be kept under wraps and she would make a big entrance last week at the Birmingham auditions and everyone would have loved it.
"But when the story got out it changed everything. There was no more communication and we had set a deadline of Sunday giving her six days to make a decision. That passed and we still had not heard anything. So we announced our UK judges – people don't always make the best decisions for themselves."
"If she had accepted my original offer, she would have made a sensational return and would have understood she was more comfortable in the UK than the US."
Meanwhile, there's an army of hopefuls queueing up to be judged by…SOMEONE: "When things like this happen I look at the contestants on our shows, they must think this is crazy. All the attention is on us. I am sorry this has caused so much anguish and embarrassment, but I stand by what I believe was the right intention. And I would say that to her face right now."
Or get someone else to do it.
Would you like to be protected by Simon Cowell? Tell us here.
Read More
Filed Under: