When preparing for their April 29 nuptials, The Duke and Duchess of Cambridge founded the The Prince William and Miss Catherine Middleton Charitable Gift Fund in lieu of receiving any wedding presents.
And between March 16 and May 31, wedding guests and other generous folk gladly grabbed their checkbooks to donate a reported total of $1,691,329 (£1,058,367). According to Metro, these contributions will be shared among 26 charities previously handpicked by William and Kate, and will be presented by the Foundation of Prince William and Prince Harry.
"Their Royal Highnesses the Duke and Duchess of Cambridge are delighted that these charities are able to benefit so positively from their special day," St. James Palace said in a statement released on Wednesday (June 22).
"They would like to thank everyone who donated and contributed so generously to the charitable fund and for all the kindness and support shown to them throughout the wedding period."
In other royal-related news:
• When William and Kate travel to the province of Québec in early July, the Duchess will likely greet some French citizens with "Je parle français!" A source told The Daily Mirror: "This is a big occasion and Kate is busy preparing," said the source. "There is a lot of behind-the-scenes work that goes into getting ready for a tour and Kate doesn't want to leave anything to chance. She and William already have some knowledge of French but they are keen to brush up as much as possible before they go. She is also learning about the places they will visit and the people and organizations they will meet. There is a lot to take in."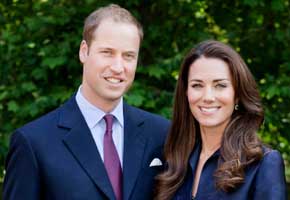 • And just this afternoon, Clarence House released the royal newlyweds' official 2011 Royal Tour of Canada photo via Twitter. They look positively lovely, don't they?
• Queen Elizabeth II and Prince Philip have posed for a new portrait commemorating The Queen's 2012 Diamond Jubilee celebration. Artist Thomas Struth photographed the couple sitting on a kelly green love seat at Windsor Castle in early April, and he told The BBC that he "wanted to leave them both in their royal environment," but most importantly, capture them as "an elderly couple who are together." The picture will be included in the National Portrait Gallery's "The Queen: Art and Image" exhibit.
• Yesterday (June 22), Camilla attended the 125th Wimbledon Championships, where she mingled with numerous Wimbledon employees and other All England Club members. Once settled at Centre Court, the Duchess of Cornwall watched Venus Williams and Rafael Nadal both advance to the third round.
Read More
Filed Under: