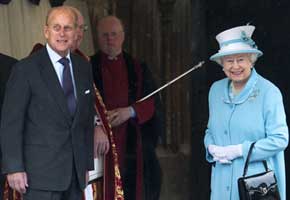 The Duke and Duchess of Cambridge, along with many members of the royal family, honored Queen Elizabeth II and Prince Philip in two celebrations over the weekend.
Saturday's (June 11) historical Trooping the Colour parade kicked things off with plenty of pageantry. The public outing, which recognizes the British Sovereign's birthday on the second Saturday in June each year, marked The Queen's official 85th birthday, and making his debut in this annual ceremony was Prince William. Decked in his Irish Guards wedding day attire and a bearskin hat, Wills rode by horseback with Prince Charles, Princess Anne, and Prince Edward, Duke of Kent. The Daily Telegraph reports that the day's event was the first time that "three generations of the Royal Family have taken part as Royal colonels."
Wills' bride, Kate, along with Prince Harry, Prince Andrew and Camilla, Duchess of Cornwall, followed behind by carriage. After a quick family gathering on the balcony of Buckingham Palace, the Duchess skipped off to attend the nuptials of Sam Waley-Cohen and Annabel Ballin with her sister Pippa.
And yesterday (June 12), family members came together again at Saint George's Chapel at Windsor Castle for a special service dedicated to The Duke of Edinburgh's recent 90th birthday. Shortly thereafter, Princes William and Harry went on to duke it out in the annual Sentebale Polo Cup where Wills was crowned the winner. All proceeds raised in support of the charity match will go on to benefit Lesotho orphans.
In other royal-related news:
• In recent weeks, we've seen Pippa Middleton step out with a couple of fellas, but none who are her boyfriend Alex Loudon. So I guess it's not any big surprise that the royal bridesmaid has broken things off with her banker beau. A friend confirmed to The Sunday Times (via Metro): "It is common knowledge in their close circle of friends that Pippa and Alex have recently split up."
• The royal family's weekend-long celebrations extended into Monday (June 13), as William, Prince Charles, Prince Andrew, the Queen and Prince Philip donned their finest velvet hats for the "annual Order of the Garter ceremony" at Windsor Castle. Wills' beaming bride was all smiles as she joined Camilla on the sidelines.
• During this past season of Britain's Got Talent, contestant Nathan Wyburn unveiled his toast-and-Marmite-jam portrait of panelist Michael McIntyre. Now the Welsh native has created one of the Queen, and it only took him 140 slices of bread and 10 jars to do it. Pretty impressive!
Read More
Filed Under: