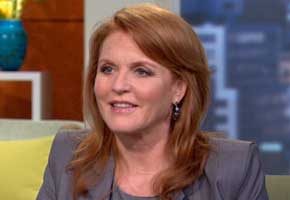 Sarah Ferguson is making the morning chat show rounds this week in support of her new show, Finding Sarah, which launches on the Oprah Winfrey Network on Sunday (June 12). The six-part series will see her sorting through some very personal self-esteem issues, while viewers will also watch Fergie tackle those much talked about financial woes with advisor Suze Orman. It was reported last summer that Ferguson was nearly bankrupt after spending millions of dollars.
But come to find out, the Duchess of York's checkbook is no longer in the red. When stopping by Good Morning America on Tuesday (June 7), Fergie told host Robin Roberts: "We're going forward now, we're positive, we're creative, we're going to start again. Suze has given me the tools so that, this time when I start again, it won't slip through my hands. And it was really slipping through my hands through self-worth issues. Rather than me spending money, it was me playing to the people-pleaser addiction. In other words, 'Oh, you need help? What can I do?' rather than actually taking steps and looking at why do I want to try to get everyone to love me by being over generous."
In other royal-related news:
• After everything that's been said in praise of Pippa Middleton's perfect derriere, it didn't measure up to Carol Vorderman's prized bum in the "Rear of the Year" contest, Metro reports. The former Countdown hostess, who is nearly a quarter-century older than the royal bridesmaid, was seemingly stunned: "I am really surprised and flattered to get this award, particularly at this stage of my life," Vorderman said. "I always suspected there were a lot of people out there who were glad to see the back of me, so this has turned out to be very funny indeed."
• In just under eight weeks, the royals will be attending another family wedding when Zara Phillips ties the knot with her boyfriend of seven years, English rugby star Mike Tindall. And new details relating to the couple's Edinburgh-based nuptials are starting to emerge. The Queen's eldest granddaughter is rumored to be wearing a gown by Irish designer Paul Costelloe, says STV. As for the ceremony, Zara and Mike will marry at the stately 17th century Kirk of Canongate. Afterwards, the congregation will meet at the Palace of Holyroodhouse on the Royal Mile, which is "the Queen's official home in Scotland," to do some proper celebrating.
• Are you head over heels for Kate's white Epsom Derby duds? Fashion experts Brix Smith-Start and Henry Conway give tips on how one can dress to the nines just like the Duchess.
• Wait, Prince Harry and actress Cameron Diaz are exercise pals now?
Read More
Filed Under: