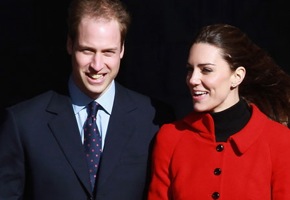 It sounds like the Hallmark Channel's summertime drama capturing Prince William and Kate Middleton's storybook romance might be a little more entertaining than the Lifetime movie that premiered earlier this spring.
William & Kate: A Royal Love Story, which just wrapped one month of filming in Bucharest, Romania, will showcase the couple's big wedding day of course, but American director Linda Yellen recently told The Associated Press that her spin will touch upon the memory of William's mother, the late Princess Diana, as well. "In a way, it's my tribute to her [Diana] as well as a tribute to the young couple," she said.
Yellen, who served a producer for the 1982 CBS drama The Royal Romance of Charles and Diana, also explained that she was inspired to pen such a story after William presented his longtime girlfriend with his mom's oval blue 18-carat sapphire and diamond ring last November. For more details and some colorful on-set snaps, check out The Daily Mail.
As previously reported, the film stars newcomers Dan Amboyer and Alice St. Clair as the Duke and Duchess of Cambridge. Broadway and TV actor Victor Garber (Alias) has been cast as Prince Charles, while former Designing Women actress Jean Smart will portray Camilla, Duchess of Cornwall. Queen Elizabeth II will be played by Jane Alexander (Kramer vs. Kramer, The Cider House Rules).
In other royal-related news:
• While most can't stop raving over Pippa Middleton's bodacious badonkadonk, Tinie Tempah reveals that he's not much of a fan. "I've not actually got what all the fuss is about," the British rapper recently told The Sun. "I prefer a bigger bum. I'm definitely a bum man but she's not doing it for me. Sorry Pippa."
• Speaking of the mega popular Pippa, she's been quite the traveler as of late. Two weeks ago, she and her old college boyfriend, George Percy, were seen hanging out in Madrid. And this week, she's gallivanting around Paris, enjoying the French Open, the famous Le Cinq Mars restaurant and the posh Montana Club with a dark-haired fella who isn't her boyfriend Alex Loudon. The Daily Mail reports that the guy is just a friend. Ok, I think we'll leave it at that.
Read More
Filed Under: