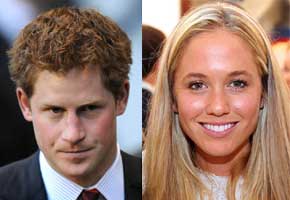 Wait a second! We thought Prince Harry was enjoying the single life?
The 26-year-old ravishing redhead just dismissed rumors that he and Pippa Middleton were getting together, but is that because he's spending some quality time with British lingerie model Florence Brudenell-Bruce?
The blonde socialite — who dated Formula 1 racing driver Jenson Button for a couple of years prior to calling it quits in 2008 — has apparently been hanging out with the prince at her $4 million (£2.5 million) West London pad.
"It's very early days but Harry and Florence are an item," an insider told The Sun. "She is a lot of fun, blonde and very good-looking. Harry really likes her."
In other royal-related news:
• While her sister and brother-in-law wowed the Wimbledon crowd on Monday (June 28), Pippa and her supposed former beau, financier Alex Loudon, watched France's Jo-Wilfried Tsonga tame six-time Wimbledom champ, Switzerland's Roger Federer, from Centre Court earlier today (June 29). The two looked pretty darn smitten with one another, too.
• Speaking of Kate's recent appearance at the All England Club, did anyone spot the lovely gold bracelet she wore with that gorgeous Alice Temperley dress? Camilla, Duchess of Cornwall reportedly gave that to her as a wedding gift, and The Daily Express says that the wristlet's charm features both Kate's and Camilla's personal royal cyphers.
• Canada is already in the royal spirit for The Duke and Duchess of Cambridge's arrival tomorrow (June 30). Canada Post issued a commemorative stamp featuring the couple on their wedding day, plus Wills will be presented with a special personalized flag.
• In a new interview with Parade magazine, Sarah Ferguson chats more about her new reality show, Finding Sarah, and how proud she is of her daughters, Princess Beatrice and Princess Eugenie. Fergie also goes on to discuss her love for the U.S., while also praising her loyal American fanbase for getting her through some pretty tough moments: "I'm so grateful to the American people. I love being in America, and I love the way they are and how forgiving they are and how they give people a second chance. They don't judge, and I love that. I thank the American people for giving me so much strength to get through such a dark time."
Read More
Filed Under: