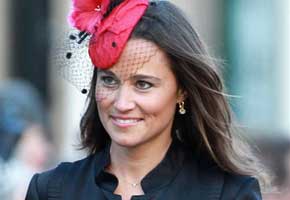 Now that Pippa Middleton is officially back on the market, might Kate's younger sister be looking to celebrate her new single status by jetting off to France?
According to The Sun, her desire to venture beyond the UK is why she broke things off with Alex Loudon. A source said that Middleton is looking to test her supreme networking skills, and has designs on doing some possible event planning for the Cannes Film Festival.
"She is keen to spend some time living abroad – she's a massive fan of the South of France and hopes to work there and have a base there a bit more permanently," the source stated. "But Alex doesn't have the same dream as Pippa. He's quite happy being in London, so it's not something he's keen to share with her."
But are things truly over between Middleton and Loudon? Apparently, the two are just on a break and are slated to readdress their relationship sometime this September.
In other royal-related news:
• Speaking of Pippa, English comedian David Walliams channels a frightening, yet hilarious version of the royal bridesmaid in the new issue of Britain's Heat magazine. It's all really too much to take in, isn't it? Just look at that cheeky smile and all that bronzer.
• As we well know, the royal family loves their horseracing, and earlier today (June 14) The Queen and Prince Philip, Prince Charles and Camilla, as well as Princesses Beatrice and Eugenie, stepped out for the 300th annual Royal Ascot. The Daily Mail reports that "nearly 500 horses" are scheduled to compete in 30 races during the five-day extravaganza. For some Royal Ascot history, check out The Daily Mirror's very thorough timeline.
• Do you long to have radiant-looking skin like Duchess Kate, but fear she stacks up on the more expensive brands? Marie Claire UK reveals that Wills' beaming bride actually goes the cheaper route with Nivea's $8 (£5) Visage Pure and Natural Moisturising Day Cream. Talk about a royal deal!
Read More
Filed Under: