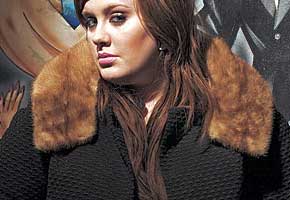 You can tell an iconic song by the amount of people who are queuing up to record their own version of it. Not just bedroom jammers whacking something up on YouTube, but actual proper musicians who other people may have heard of.
Right now, with "Rolling In The Deep", Adele has that song. So here are four cover versions and a treat at the end.
John Legend
It's funny how stripping the song of its musical thunder and lightning does nothing to diminish the drama, mm? Here's John's a capella take, harmonies and everything. Lovely.
http://www.youtube.com/watch?v=SrQ4njrnnsI
Mike Posner
Ah, that's what we needed, someone to strip out all of that fire, and replace it with the icy wheezes of a near death experience. It does kind of change the plaintive emphasis of the song, does it not?
Maddi Jane
OK, so Maddi is now famous because she was a YouTube bedroom jammer in the first place, so the argument starts to eat its own tail a little bit. Nonetheless, here's the song stripped (once again) of its elemental fury and given a rather sweet edge. It's hard to believe someone so young singing what is transparently a grown-up's song, but she does make a decent fist of it.
Little Big Town
Ah, the good old band-in-a-backyard version, with a man who looks alarmingly like Mike Mills from REM hitting a plastic bucket for percussion. What does this teach us about the song? Well, nothing. Kinda purdy though, idnit?
And to finish, here is Adele herself, singing someone else's song. Cheryl Cole, since you ask.
Which version did you like the best? Tell us here.
Read More
Filed Under: