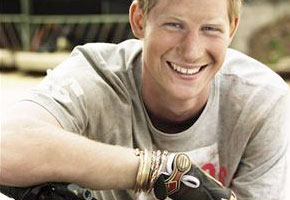 If you watched the Royal Wedding and wondered what it might be like to be Kate Middleton, to have all of that fuss and public support on the biggest day of your life, the news that Prince Harry is officially still on the market, as of right now, and that he's not even considering making a move on Kate's sister Pippa, well it's bound to be a pick-me-up on a Monday morning.
Harry, who recently split with his girlfriend Chelsy Davy, attended the Hard Rock Calling concert at London's Hyde Park over the weekend. While chatting to guests in the Live Nation VIP lounge, he was overheard by the Mail on Sunday explaining that the rumours about a romantic tryst (hey, he's a prince, that's probably what they call it, right?) with his new sister-in-law are a little wide of the mark: "Pippa? Ha! No, I am not seeing anyone at the moment. I'm 100 per cent single."
Sadly, this does not mean that he's available for courting, carriage rides, moonlit strolls down the Mall or whatever else you may believe princes do when they're feeling amorous.
"I'm working a lot at the moment, so dating and watching TV are the last things I have time for."
See that? Dating and watching TV: synonymous in a young man's mind. Just remember that before you book a flight over here, OK?
What kind of date would most suit a modern day prince? Tell us here.
Read More
Filed Under: