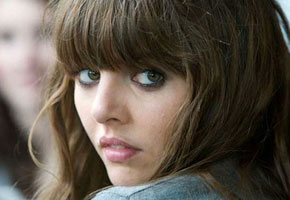 Actress Ophelia Lovibond, who already has the most euphonious of names, gets alliterative in Mr. Popper's Penguins, which opened this past Friday (June 17).  In the family comedy, the British actress, 25, plays an executive assistant named Pippi who compulsively strings together words beginning with the letter "p."
Penguins, very loosely based on the classic, 1938 children's book of the same name, is Lovibond's second Hollywood, big studio movie. She appeared earlier this year in No Strings Attached, winning laughs as the bimbo girlfriend of an older man (George Segal) in the romantic comedy.
Named last March by the British newspaper The Mail on Sunday as one of the "new wave of British screen queens," her countrymen have been watching Lovibond since she was a 14-year old. That's when she first popped up as a regular in The Wilsons, a TV sitcom. She has worked steadily since, appearing on the TV shows Single, Holby City, and FM, and in such British films as Popcorn, Nowhere Boy and London Boulevard.
In Penguins, Lovibond portrays the devoted but harried aide to a hard-charging Manhattan businessman (Jim Carrey) as he becomes the reluctant guardian to a clutch of penguins. In the role, Lovibond effortlessly lets loose with one "p"-propelled tongue twister after another.
Just how many "p"-words populate her dialogue? Here are two samples: "Mr. Popper, all the penguin people refuse to procure penguins from private parties. But there's one promising possibility – a purveyor of peculiar pets." And, "Mr. Popper, per your predicament, I printed out some pertinent points on penguins from a Wikipedia page."
Try saying either of those bits three times fast. More power to her, eh? May Lovibond's career proceed and prosper.
Read More
Filed Under: