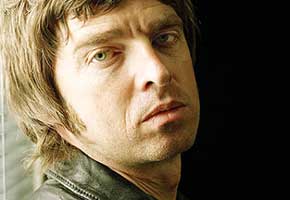 In many ways, the story you are about to read constitutes the perfect Anglophenia moment. What we've got is a prominent British musician explaining a crucial part of his daily routine, one which is familiar to millions of British citizens, but which is not as common a part of American life.
Yep, we're talking about TEA.
And not the kind of tea where you have a herbal infusion floating around in some hot water, and Anthony Kiedis and Johnny Marr sit and earnestly discuss from which high mountaintop the best leaves are to be found. I'm talking about the classic milk-and-two-sugars, left-in-the-cup-for-ages, likely-to-turn-your-teeth-yellow brew-up.
So let's allow Noel Gallagher to be our guide through this most delicate of beverage preparations. The former Oasis star was asked to contribute to a new book in aid of the Teenage Cancer Trust, called Love Music Love Food – The Rock Star Cookbook, he came back with a guide to making the perfect cuppa, so perfect, in fact, that he's had to wean himself off drinking 20 cups a day.
His instructions are simple:
1: Put your sugar in first with tea bag (must be Yorkshire Tea).
2: Fill cup an inch from top. Leave 'a good while.'
3: Tea must be colour of Quality Street toffees inside yellow wrapper (see pic).
4: Add milk last.
5: Enjoy your perfect cuppa.
Noel told the Sun: "It was always on the Oasis rider on tour – tea, must be Yorkshire. I'm a Northerner and it's part of our diet."
And apparently you can't even get a good northern cuppa in London: "There's a lack of good tea-making down here. Paul Weller's tea-making leaves a lot to be desired. It's watery and the colour's not right."
Maybe he doesn't like toffees.
Love Music Love Food – The Rock Star Cookbook is released on September 5.
OK, over to you. How do you make the perfect coffee? Tell us here.
Read More
Filed Under: