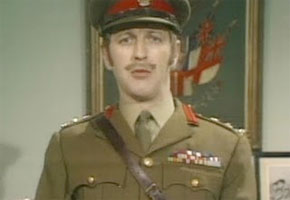 The history of the Monty Python team is currently undergoing a very thorough excavation for dramatic purposes, as there are not one but two dramatic re-enactments of their working lives in production. BBC Four have commissioned the Life of Brian comedy drama Holy Flying Circus, and now Graham Chapman's memoirs are to be made into an animated film, and the remaining Pythons look set to join him.
A Liar's Autobiography: Volume VI first came out in 1980, and confused as many people as it enthralled, simply because Graham included several stories which were clearly made up, having worked closely with fellow comedy writers like Douglas Adams on the manuscript.
This anarchic approach to biography will be represented in the film version, which will be shot in 3D, and split into 15 chapters, each made by a different animation company, and varying wildly in tone and style from chapter to chapter. It will be shown in America on Epix, sometime in the New Year.
In a further twist on classic biopics such as Ray or Walk The Line, Graham will be playing himself, despite having died in 1989. A 1982 recording of him reading the book will be used instead. But where the narrative requires him to speak to the other Pythons, their voices will be the voices of the real, and not yet dead people in question. The Pythons – with the exception of Eric Idle, who has yet to sign up  – will also be playing other roles, such as Graham's mother (Terry Jones) and father (Michael Palin).
Terry Jones's son Bill is producing the film, with Ben Timlett and Jeff Simpson, all of whom worked on the definitive documentary series about the comedy team – Monty Python Almost The Truth: The Lawyers Cut.
In a press release for the film, Jeff Simpson said: "We've been working closely with the Chapman estate and the Pythons to make sure we get this exactly right. Graham would be delighted that his work is being re-imagined in glorious 3D.  He always loved wearing silly glasses."
And Terry Jones added: 'I had no idea until recently that Graham Chapman is in fact dead—I thought he was just being lazy. However, I am now delighted to find myself working with him again on this exciting project."
Here's an excerpt of Graham's reading. The language is a little NSFW, so be warned:
Come on, this is going to be amazing, isn't it? Agree with us here.
Read More
Filed Under: