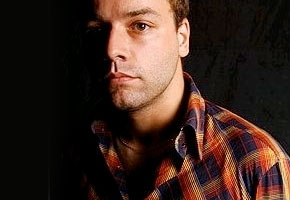 Chris Wolstenholme, the bass player with British preposte-rockers Muse, has been speaking at length about his battles with alcohol addiction. He says his drinking reached the level that he was having to drink in order to get up in the morning, and was drinking something like two pints of spirits, two bottles of wine and several bottles of beer a day.
He told Q Magazine: "I was actually losing my mind. It got to the point one Christmas morning where I was actually puking up blood.
"But you're so out of it. My rational thought at that time was, 'Oh I won't drink spirits today, I'll just drink beer.' You just don't think properly. You don't really consider that you're killing yourself.
"Or even if you do, you get to the point where you don't care about anything anymore."
As you'd expect, this had an affect on Chris's ability to function at work, but not as severe as it would if you or I attempted to play complicated bass runs after a few too many.
His bandmate Matt Bellamy explained: "The thing with him is he's such a good musician that his motor skills or something just aren't affected.
"So he would come in and play brilliantly and then we wouldn't see him for a bit. We'd have a great gig and he'd go off to his room so we wouldn't really know what was going on.
"It took years actually to really notice that behaviour."
Luckily, and much to the relief of his wife and five children, Chris has managed to curtail his drinking, after his performance finally started to suffer during sessions for the bands last album, 2008's "The Resistance."
He's been sober since then.
Here's Muse doing what they do best:
http://www.youtube.com/watch?v=zXQ3gb1N9lU
Read More
Filed Under: