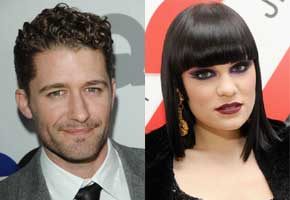 Matthew Morrison surely has a thing for name-dropping acts he'd like to see featured, or better yet guest star, on Fox's hit dramedy Glee. He's already said that Sir Elton John and Adele are on his wish list, but now he'd like to add Jessie J.
"She's incredible!" Morrison told The Daily Mirror. "That voice! It'd be great to have her as a lunch lady, serving dinners, with a net on her hair, absolutely great. We've had so many big names — now we want Jessie."
Somehow we don't see the British pop sensation tucking her shiny raven-colored bob into a hairnet, but weirder things have happened. The girl's got incredible pipes and a bright-eyed kind of enthusiasm, which is a perfect mix for Glee.
Over the last few months, we've watched Jessie J work her way into a cushy space within the mainstream pop sphere; her second single, the feelgood jam "Price Tag," has remained on the Billboard Hot 100 singles chart for 17 weeks and counting. She's also rocked the U.S. television circuit with stints on Saturday Night Live, The Today Show, The View, and Ellen. And in November, she'll bring her funky style and sound to Katy Perry's California Dreams tour. So perhaps the time is right for Jessie J to make a stop at McKinley High.
Hey Gleeks, would you like to see Jessie J on Glee?
Read More
Filed Under: