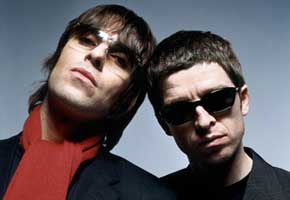 Liam and Noel Gallagher's mother Peggy has had about enough of all the bickering between her two sons.
If she has anything to say about it, Liam WILL be in attendance when Noel walks down the aisle with his longtime girlfriend Sara MacDonald in a couple weeks and that's final!
"Unless he's broken both legs, Liam has been told he is going to watch his brother get married!" a source told The Daily Star.
I'm going to guess that Liam's dear old mum will have to drag him to the church by his ear. Maybe his missus, Nicole Appleton, can lend a hand?
As all fervent Oasis fans know, Liam and Noel have had their fair share of spats over the years. But after Noel acrimoniously left the Manchester-born Britpop band for good in 2009, they have yet to patch things up. Around that same time, Mrs. Gallagher stated that the two only started to seriously squabble once they got in a band together.
Read More
Filed Under: