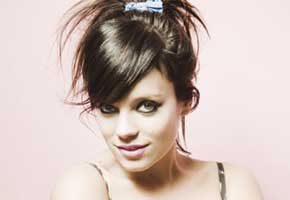 For all that she tends to go into battle with other celebrities at the drop of a hat and bring the wrath of the internet down on herself, for suggesting that people should maybe pay for the music they listen to sometimes, it would take a pretty hardened heart not to have wished Lily Allen a glorious wedding day, after the kind of luck she's been having recently.
And on Saturday, that's exactly what she got, marrying her builder boyfriend Sam Cooper in an intimate ceremony in a tiny church in Cranham, Gloucestershire.
She arrived in a 20s-style Chanel dress designed by Delphine Manivet, with an unusual floral head-dress which came down over her ears in two circles, making her look slightly like she was wearing headphones (or trying out for Star Wars). The ceremony took place in front of 100 people, with only a couple of celebrity attendees, including comedians Harry Enfield and Angus Deayton (old family friends, y'see) and the TV presenter Miquita Oliver, who was a bridesmaid.
And best of all, Sam took the opportunity of announcing, during the speeches, that Lily is once again pregnant. You may remember she suffered a miscarriage late last year, her second, having been through the same agony a couple of years previously, when she was going out with Ed Simons from the Chemical Brothers.
So, glasses at the ready, will you be upstanding for the bride and groom? And yes, that cup of coffee will do perfectly well.
Read More
Filed Under: