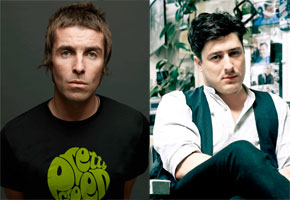 We all know that when Liam Gallagher is in an interview situation, he likes nothing more than to pick whoever is currently popular within the field of guitar-based popular music, and call them names. And the latest recipient of his seemingly endless bile, you possibly won't be too surprised to learn, is Mumford and Sons.
He told Shortlist magazine: "I'm sure they're all nice lads but that's not for me, man.  They look like f****** Amish people."
"You know, them ones with the big sideys that don't use electricity? Growing their own food and putting barns up… I need music to be a bit more sexy and played by people who look a bit f****** dangerous."
So, assuming Marcus and co will be far too polite to respond in kind. Let's have a look at this in detail, shall we?
Here's Mumford and Sons:
And here's Liam's band Beady Eye:
Now, granted, the Mumfs are dressed like a boyband in their video, which is a slight deviation from their more usual waistcoated pomp, but surely Beady Eye could do better than this?
Liam appears to be dressed as Pall Mall, from a few weeks back, Andy Bell's dressed as Chris Martin, the Gem the guitarist is wearing a rubberised dufflecoat, of the sort you get when you're 11 and your mum wants to find you something hard-wearing and practical, and the bass player's sole concession to sartorial elegance is that daft hat, and a white silk scarf.
A white silk scarf, I might add, that would look just as good as an accessory to Marcus Mumford's linen suit.
And it's not as if Liam couldn't kit his own band out in someting nice, he owns his own clothing line.
Yes, but which is sexier? Over to you!
Read More
Filed Under: