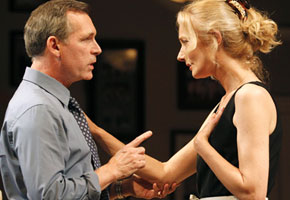 Joely Richardson — the 46-year-old daughter of Vanessa Redgrave — has been getting some glowing reviews for her portrayal of a bipolar wife in the play Side Effects, which has just opened in New York.
The play chronicles the disintegrating marriage of an American couple. The husband, played by Cotter Smith, wants to make sure his unstable bipolar wife doesn't sabotage his political ambitions.
After the hit Broadway musical Next To Normal, this new play is yet one more production to portray a mental illness that some estimates suggest affects more than four percent of the U.S. population.
Recently, Catherine Zeta-Jones acknowledged she suffered from bipolar disorder. Some experts believe celebrity revelations can go a long way towards destigmatizing the condition.
Joely Richardson believes a stage work can help too.
She maintains: "Any play that deals with any issue that is current is wonderful when it's demystified."
A big challenge for Richardson was preparing for the part — it's just her and Cotter Smith on stage for 90 minutes in a very dialogue-heavy play.
Richardson, who previously starred on the FX series Nip/Tuck, admits she found the challenge daunting: "I was actually scared about it. It's really a phenomenally difficult play. It's a two-hander and 77 pages."
Influential New York theater critic Ben Brantley was so impressed by Richardson's work that he wrote: "Now that Joely Richardson has returned to the New York theater. I have just one question. Can we keep her?"
Richardson also won endorsement from her mother, who was there on opening night. "She thought it was good," says Richardson. When asked if that assessment was important she replied: "Of course, she's my mum."
Read More
Filed Under: