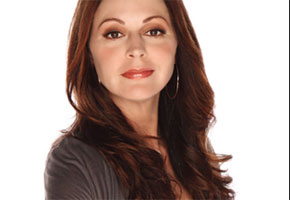 Jane Leeves has exposed a fundamental difference in attitude between the Brits and the Americans in her response to the idea that Frasier, the show that made her famous, could ever possibly return to the TV screens.
Her former TV boss, Kelsey Grammer, had been tweeting about the possibility of a reunion, allowing himself a wistful, sentimental moment imagining that the show could now feature on the next generation of the Crane family. But he's wrong. It's this kind of mushy thinking that leads to regrettable besmirchments of actually-not-bad franchise ideas, like Night At The Museum 2. Is that what we want for our beloved Frasier?
Thankfully Jane's cold and aloof British mind has scuppered that thought. What she'd like is for people to be left alone with their fond imaginings of how the characters headed off into the future, and what they may be up to nowadays.
She said: "You just want to imagine those characters off in their happy lives, maybe Niles and Daphne have a couple more kids now."
Yeah, the last thing we want is more kids in the Crane home, it'd end up being like the last days of The Cosby Show.
Not that Jane is estranged from her former castmates. She lives next door to Peri Gilpin, who played Roz, and they're godmother to each other's daughters. And she came over to see David Hyde Pierce make his West End debut. She'd have been at Kelsey's wedding too, had she not been filming her new show Hot In Cleveland.
So there we have it, cold British logic beats American sentimentality once again.
Would you like to see Frasier make more episodes? Really? Tell us here.
Read More
Filed Under: