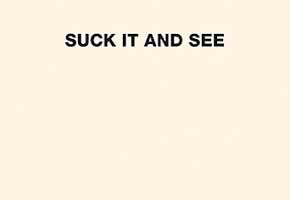 See this picture? That is literally the new Arctic Monkeys album cover. There's a huge expanse of Beatley white, possibly the name of the band on a sticker, and the title "Suck It And See", which is an expression that derives from those jars of boiled sweets of mixed flavours that British schoolchildren used to buy by the quarter-pound, in days of yore.
Of course these days it's 100 grams, but that's another story for another day.
The expression, in case, you've not quite got it, refers to the way you tell what kind of sweet you've just pulled out of your paper bag. You suck it and see, see? This then became a neat way of saying "there is no way to pre-empt this situation, you must simply try it and find out what it is like."
A useful title for a hotly anticipated album of new songs by a band who wish to dodge people's prejudices, and whose last album was called "Humbug," which is also the name of a boiled sweet. It's thematic! And also slightly rude!
So, the news that some retailers in American record stores are planning to sticker the album cover — look again, it's WHITE, with WORDS on it — is all kinds of hilarious.
Alex Turner explained to XFM: "They think it is rude, disrespectful and they're putting a sticker over it in America in certain stores, big ones."
Well I suppose that's cheaper than hiring an expert in British idioms to explain things to outraged shoppers.
Is it offensive though? Tell us here.
Read More
Filed Under: