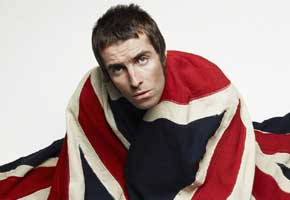 Even though Mani put the kibosh on those Stone Roses reunion rumors earlier this spring, Liam Gallagher would still like to see one of his favorite bands get back together for one last hurrah.
When speaking with Shortlist magazine recently, the seemingly chipper Beady Eye frontman said the Madchester icons should play their seminal 1989 self-titled debut, as they totally deserve the extra dough. He'd also chip in at the mic with Ian Brown, too.
"I'd love the Roses to get back, play that album and make a sh*tload of money for themselves, because I'm sure they didn't make that much [before]," Gallagher said. "Do some great f*cking gigs, see what the reaction is and go make a new record."
He continued: "We come on to "I Am The Resurrection" at all of our gigs and the crowd go nuts. Apparently, Ian Brown's worried about singing but he wouldn't even have to — we'd sing it for him."
It's definitely a nice thought, Liam, but I don't think we'll ever see the day. Guitarist John Squire previously stated that reuniting for a big paycheck is a bit "tragic."
To those wishful Oasis fans thinking Liam and Noel might kiss and make up to kick out the jams once more, you should probably cool it already. Liam isn't going to go there.
"What would be the point?" he said. "We don't get on with each other. Noel's going down his path and I'm going down mine."
Read More
Filed Under: