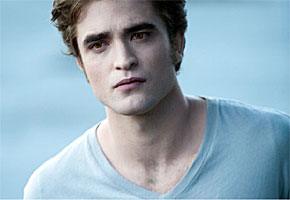 Warning: This story won't help anyone who has a crush on Robert Pattinson. Especially not the people who were bowled over by his portrayal of a vampire attempting to do the right thing by the girl he loves, in the Twilight films.
It seems he really is that considerate a person in real life, to the extent that he's already planning his wedding. Not that he's proposed to Kristen Stewart — as far as we know, at any rate — it's just he has certain ideas about how it'll go, and, well, they're exactly the ideas you'd want him to have, and NOT the ideas you'd necessarily expect from a Hollywood studmuffin.
Asked about his dream wedding, he told Heat magazine: "I imagine it to be pretty simple. It's not exactly my style to fly in 500 different celebrities from around the world. My best friends now are the same best friends I had before everything got a little crazy. I would want it to just be family and close friends, not somebody I've said hello to once at an awards ceremony."
And where would you like the ceremony to take place, Robert? Huh? Where? Over in LA? On a big clifftop?
"The weather in LA is great, but if I were to get married, I think I would like to do so back home."
But surely you're going to want to sow your wild oats (as James Earl Jones so memorably put it in Coming To America) for a bit first? You're one of the hottest men on the planet, surely you want to take that kind of appeal out for a test drive? Unleash your inner Russell Brand?
Oh, seems not: "I'm not interested in casual relationships, I need to know people, I'm not making an existential statement here, simply, I want a family with two or three kids."
Sorry ladies, we did the best we could. He's exactly the guy you hoped he was. Hope that doesn't make the disappointment of not marrying him any more crushing.
Or would you rather go for someone a bit wilder? Tell us here.
Read More
Filed Under: