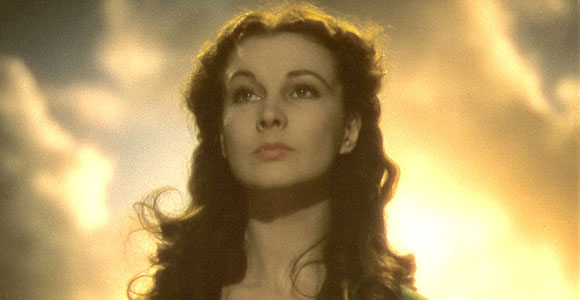 They are among us. They look like us, they speak like us, and they've fully absorbed our way of life. But they are most assuredly not like us. When they let their guards down, those hard 'R's start dropping, and the "blimeys" and "brilliants" start creeping into conversation. They privately listen to Take That like children sneakily gorging on cookies. And at 4 in the afternoon, they start demanding tea. Egads.
Yes, these folks are… secretly British.
British-born Jamie Bamber, who sports a spot-on American accent on Battlestar Galactica, is just the latest "secretly British" star to infiltrate U.S. screens. Here are five U.K. stars of early Hollywood who served up Yankee realness before it became hip:
Vivien Leigh in Gone With the Wind (1939) and A Streetcar Named Desire (1951)
Oh yeah, they say it's easy for English thespians to pull off the Southern accent. But a posh, RADA-trained Brit bringing literature's two greatest Southern belles to flesh on screen — and doing it with shading, wit, and manic, unhinged energy? She won well-deserved Best Actress Oscars for both roles: stubborn, capricious Scarlett O'Hara in Gone With the Wind and fragile, delusional Blanche DuBois in Streetcar. While the performances couldn't be more different, both felt as authentically Southern as pine cones and sweet tea.
Here's Viv's British accent in the 1940 film Waterloo Bridge – spoiler alert for those who may not have seen the movie.
Leslie Howard in Gone With the Wind (1939)
Gone With the Wind boasted an absolute cadre of stealth Brits, with three of its four leads being British or British-American. (Though that Olivia de Havilland was a big old cheater, having lived in this country most of her life, albeit not in the South.) Leslie Howard wielded a marvelous Georgia accent as Scarlett's upstanding but weak-willed paramour Ashley Wilkes. If it weren't for his role as a put-upon Englishman opposite Bette Davis in 1934's Of Human Bondage, many early filmgoers probably wouldn't have known he was from London.
Ray Milland in The Lost Weekend (1945)
In arguably one of the greatest portrayals of alcoholism on celluloid, Welsh-born Ray Milland played a New York writer who ventures on a weekend booze binge in Billy Wilder's noir The Lost Weekend. He won the Best Actor Oscar for the role. (He later played a swaggering villain in the 1957 thriller The River's Edge — all without resorting to his native "Accent of Evil.")
http://www.youtube.com/watch?v=s9NVSst26_U
Deborah Kerr in From Here to Eternity (1953)
Kerr was one hell of an actress. (The woman played three different parts in 1943's The Life and Death of Colonel Blimp, each one utterly distinct from each other.) But the Scottish-born star became a true movie star as the lusty California army wife in From Here to Eternity. Her U.S. accent? Flawless, with not a hint of her Glaswegian roots showing.
Charlie Chaplin in The Gold Rush (1925) and City Lights (1931)
Oh, you were a tricky one, Mr. Chaplin. Until the pictures started talking, he never had to betray his English background by actually, well, speaking. His ambling, cane-swinging tramp became a universal comic icon, one Americans claimed as their own.
http://www.youtube.com/watch?v=mtZTIwSIuGw
Battlestar Galactica airs Saturdays at 7/6c on BBC America.
Who's your favorite British star of classic movies?
Read More
Filed Under: