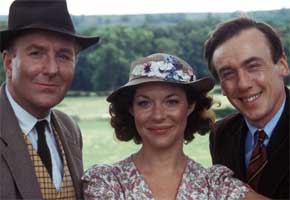 I'm not sure how aware of this phenomenon you are over in the States, but there's a tradition on British TV which, at some point over the past 30 years, seems to have become law: Sunday night is the time to make pastoral, nostalgic TV shows. TV shows which, while still being stuffed with dramatic events and intruiging happenstance, are effectively a means to parade the glory of the British countryside, as a balm for weary eyes.
Here are five examples. Feel free to add your own:
1: All Creatures Great And Small
This long-running, and much-loved TV show was based on a series of popular books by the Yorkshire veterinarian James Herriott. The show followed the trials and tribulations of the newly qualified 1930s vet as he attempted to make some headway among the stuck-in-their-ways farming community, and his partners in practise, the charming but slightly devious Farnon brothers — as played by Robert Hardy and a young Peter Davison. Classic Sunday night escapist TV, if your idea of an escape involves intimate examinations of poorly cattle, performed by the actual actors. On the plus side, had this series never existed, it's doubtful that Peter Davison would've ended up as Doctor Who. Plus the Yorkshire Dales really are a delighful sight.
http://www.youtube.com/watch?v=qS7Z1q9hL2I
2: The Darling Buds of May
Darling Buds did for the '90s and ITV and Kent what All Creatures did for the '70s and the BBC and Yorkshire, only this time, it's the farmers who've got the right idea. Based around the book by H.E. Bates, it told the story of Cedric, a young tax inspector trying to file a report on the roguish Pop Larkin — played by David Jason — who ends up falling in love with his eldest daughter Mariette — introducing Ms. Catherine Zeta Jones. But that's not really what the show is about. It's about a prelapsarian rural age where ancient wisdom and canniness beats officialdom, red-tape and form filling every time: something that everyone can relate to, especially on a Sunday night with a fresh week looming. Plus Kent's very pretty too.
3: Bergerac
It's a fairly well-worn TV staple, the detective who operates on the outer fringes of the law, isn't afraid to ruffle a few feathers, because he's had problems in his personal life. In the case of Bergerac, John Nettles played a former alcoholic who'd had time off due to a badly broken leg and a nasty divorce. However, his main job was to drive around the island of Jersey in a burgundy soft-top, looking for outsiders who were breaking the law. Again, this became a Sunday night hit, because people want to imagine they can drive around Jersey's tax-haven paradise in that car, dispensing justice, instead of preparing for another mundane week at work. Plus Jersey is a very picturesque place, even though the crime rate is clearly astronomically high.
4: Heartbeat
Back to Yorkshire again, only this time, it's in a different part of the past. Well, technically speaking, the series is what James Herriott and co would call the future, being set in the '60s. Either way, there are a lot of shots of olden days motor vehicles making their way across the moors. The formula is very similar though, a young policeman — played by Nick Berry (to start with) — comes to Yorkshire to try and make his way among a community which resists his big city innovations. That his adventures are set to a soundtrack of classic British beat groups only makes the Sunday night nostalgia even more powerful. Plus, even 20 years on, the Yorkshire countryside is really groovy, man.
5: Doc Martin
A more modern version of the same essential idea: this time the visiting professional is a doctor, and his new community is a Cornish fishing village. However, the twist this time is that the hero — played by Martin Clunes — is a horribly grumpy man who refuses to soften, but he's often right. Whereas the community he serves is friendly and warm and loveably eccentric, but sometimes they really need his crotchety help because they've tried to fix a medical problem using old wives' tales. As usual, they all work it out in the end. Plus the Cornish coast, well that's a wonder to behold and no mistake.
http://www.youtube.com/watch?v=em33E94T06E
What no Where The Heart Is? Shout at us here.
Read More
Filed Under: