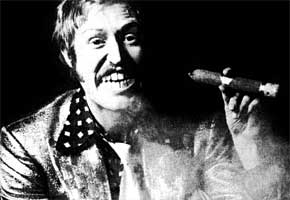 They say Britain is a nation of eccentrics. But there's a world of difference between carrying an unhatched egg under your bowler hat and the mental agility displayed by the wonderful (but ever so odd) people in this list.
Here, in chronological order are five British performers whose work exists in the hinterland between music, comedy, performance art and mucking about. It's quite a big hinterland, there are joke shops on every corner, and it is, of course, nowhere near the high street where mainstream success lives.
1: Vivian Stanshall
The king freak of them all. Had he only been in the Bonzo Dog Band, Viv would stand as one of British culture's most unique imaginations and fevered dreamers. The fact that his life was every bit as unorthodox as his work — anything deemed to be too normal would be dismissed with a theatrical flourish — only adds authenticity to what could otherwise look alarmingly like whimsy. And then there's Sir Henry At Rawlinson End, an album track that became a radio series that became an album that became a film. Not once during transfomation did its author pause to tidy up its errant prose or simplify its grand follies, and nor should he have. Vivian stands as a not-often-appreciated missing link between Peter Cook's withering silliness and Monty Python's rolling anarchy. As such, his legend will only grow wilder with the passing of time.
2: Ivor Cutler
Ivor is probably best known as the would-be bus conductor Buster Bloodvessel in the Beatles film Magical Mystery Tour – in which the Bonzos also appear. But he was only asked to do that because the band were such huge fans of his deadpan surrealism, with which he used to bring grinning '60s TV shows to a halt. Always appearing unexcited and dour, like a Scottish (and human) version of Droopy, Ivor would embark on a series of short monologues, each word weighed and balanced across his rolling baritone, interspersed with baffling songs and deft, daft poems which were a bit AA Milne, a bit Lewis Carroll, and a lot Salvador Dali.
http://www.youtube.com/watch?v=HXKL3eyf-uw
3: John Cooper Clarke
Perhaps the most orthodox of this collection, in that the great Mr Clark is simply a poet, with a punk's eye view of the bleaker side of late 20th Century life. That he would choose to perambulate the '70s punk streets dressed as 1966 Bob Dylan (with Johnny Thunders hair) pushes him back towards the Viv Stanshall end of things, as does his ferociously creative use of language. Alex Turner, no mean wordsmith himself, has always cited John as a crucial influence, which you can really hear, especially as the two men take a similar, viperish tone when delivering their cruellest barbs.
http://www.youtube.com/watch?v=Z80XDK1QMX4&feature=related
4: Frank Sidebottom
Where to begin? Frank Sidebottom was the papier mache-headed, peg-nosed, showbiz infatuated comedy alter ego of a performer called Chris Sievey. Chris and Frank had a similar relationship to that of Spider-Man and Peter Parker. Neither would acknowledge the other's existance if they could help it. Frank's act consisted of a series of weak puns, bad singing, and underwhelming music from his Oh Blimey Big Band, with whom he was determined to reach the very pinnacle of showbiz, therefore putting the village of Timperley, Greater Manchester, on the pop map. He would end every song with a variation on "oh yes he did, he really did, thank you!" and then launch into another song. He was baffling, but brilliant, and provided early showbiz platforms for performers like Caroline Aherne, Chris Evans and Mark Radcliffe (the Radio 2 DJs), and Jon Ronson (the man who wrote The Men Who Stare At Goats). And if that all sounds bizarre, well that's because it is.
5: Half Man Half Biscuit
Natural heir to Viv's crown of thoughts, Birkenhead's Nigel Blackwell has a masterful way with irrational ideas. Although his most celebrated lyrical turns tend to be the bits where he's taking wry pot-shots at preening celebrities — "oh help me Mrs Medleycott I don't know what to do, I've only got three bullets and there's four of Motley Crue" — he's also clearly fond of bashing words together, just to try and see the sparks — "it's a dotcom sitcom, about a hip hop chip shop."
A Half Man Half Biscuit song may tell a complete story or it might just be a collection of astonishing one-liners (and it usually sounds like it was recorded by a nicer version of the Fall) but it's always a poke in the eye to someone.
What no John Shuttleworth? Yell at us here.
Read More
Filed Under: