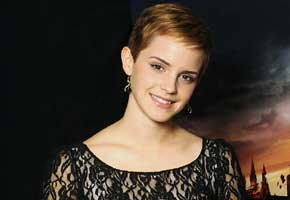 Poor Emma Watson. Being a super famous actress isn't all that it's cracked up to be when it comes to the dating game.
The 21-year-old Harry Potter star sounds a little distressed about it. She's at that wonderful age where life's possibilities seem practically endless, yet the anxiousness that comes along with that can be both trying and exciting. But still, the girl would like to go on a date once in a while. Last summer, she was linked to English model/musician George Craig. And prior to that, she enjoyed an 18-month dalliance with financier Jay Barrymore before calling it quits in spring 2010.
When chatting with The Sunday Times' Style magazine (via The Daily Mail), Watson detailed some of her romantic concerns.
"I ask my friends, 'Why hasn't X called me? Why doesn't anyone ever pursue me?' Watson said. "My friends tell me, 'Probably because they're intimidated.' It must be the fame wall. It must be the circus that goes around me."
Psssh, Emma. You've got millions. Enjoy your independence. The whole dating thing will happen in time. Don't rush it.
She continued: "I'm this very weird mix. In some senses, I feel as if I'm 100 years old. In others, I still feel incredibly young, very naive and as if I haven't seen much of the world at all. I've been incredibly protected, but in other ways I've had to be in situations that nobody my age would."
Hang in there, Emma. Um, if we were you, we'd dive into that lovely little bank account to make ourselves feel better.
Read More
Filed Under: