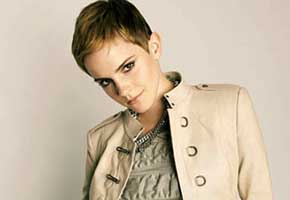 For someone who has confessed that she never had to research the role of the learned, bookish Hermione Granger for the Harry Potter films, because she's already that person in real life, Emma Watson has revealed an unlikely girlcrush on the confrontational New York poet Patti Smith.
But, perhaps fittingly for such a book-loving individual, it wasn't Patti's music or performance that really spoke to Emma, it was her memoirs. She told US Vogue that she was blown away by Patti's book Just Kids, an account of her formative years as a poet and performer in the early '70s, under the influence of the photographer Robert Mapplethorpe.
She said: "I want to live like Patti. I want to write like Patti. The book was so honest and brave. I loved the way she sees the world."
"I really felt that life was more beautiful after I read it and I felt more hopeful."
And it seems Patti's grit and determination has struck a chord with the young lady who had to force her way past this glittering showbiz career in the movies to get back to her studies.
"I have had no control over my life. I have lived in a complete bubble. They found me and picked me for the part. And now I'm desperately trying to find my way through it,"
"I have felt for the last 10 years I have had this battle; I've been fighting so hard to have an education."
"It's been this uphill struggle. I was Warner Bros' pain in the butt. I was their scheduling conflict. I was the one who made life difficult."
And profitable, let's not forget that.
Here's Patti reading an excerpt from Just Kids on PBS News:
Read More
Filed Under: