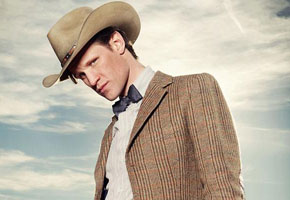 Matt Smith has been talking to the press about his future prospects as a jobbing actor, which of course has sparked a raft of gossip around his length of tenure as the Eleventh Doctor. Here's what he told The Mirror: "I'm going over to Los Angeles this week to dip my head in the pond. I am going to be having loads of meetings with film people and that sort of stuff. I have a lot of ambitions. I would like one day to direct and I just want to keep doing quality work."
"L.A. is kinda groovy – I really like it out there… Would I get a big part, who knows? Sadly, that is not up to me. That all depends on people in the American film industry and whether they want to put me there."
• See this? This is a screengrab of some sterling work The Guardian have undertaken in the field of data visualization, with our very own Doctor in mind. What they have tried to do is compile an XL document of every single Doctor Who monster since 1963, and log the amount of times they've done battle with the Doctor, what they wanted, how they set about getting it, and stuff like that.
This has then been fed into a most beautiful visualization, which allows you to see that, yes, the Daleks are the most resilient and despotic life forms in the universe. Go and have a wallow.
• Ah cliffhangers! How they liven up a story so. Here are two separate blog posts which are devoted to the glory of the Doctor Who cliffhanger. One (from Den of Geek) taking in the show's entire history, and the other (from Digital Spy) revelling in the more recent past. Oh, and assuming you're up to speed with the show's American transmissions, you'll be pleased to hear there are no spoilers in either blog.
• In this weekend's episode "A Good Man Goes to War," funnyman Charlie Baker makes his Doctor Who guest spot debut. Wonder what his audition was like? Baker tells all in an entertaining interview with On the Box.
• Speaking of "A Good Man Goes to War," can you believe the mid-season finale is almost here? Where's Amy? Who is River Song? It looks like we're about to find out all the juicy details. Check out the trailer below. If you're hungry for more, feast your eyes on the prequel.
• Mancunian Whovians (that's Doctor Who fans who are from Manchester, not Mancunia), are to be blessed with an "inversive" theatrical experience, when the theatre group Punchdrunk open their Who-themed show The Crash of the Elysium on June 30. The group are already well known for transforming old buildings and open spaces into the sets for their productions, and allowing the audience to explore them while the action is taking place. But this is their first Doctor Who show, and it's been created in collaboration with Steven Moffat. It'll be part of the city's Manchester International Festival and will take place in part of the BBC's new MediaCity UK building on Salford Quays. (via BBC News)
• Alex Kingston thinks River Song rules. So do we! The English actress recently told the London Evening Standard: "It plays with the notion of an older woman being in love with a younger man, who in his own funny, confused way loves her but doesn't quite know why, because it's a love in his future, in a different body," she says. "I'm not sure you'd get that kind of dynamic in America. At first I thought, my goodness, children aren't really going to understand or respond to River Song because of the age difference. But it seems they don't notice that. It's the character they are responding to. I have had women coming up to me saying that she's a fantastic role model. That it's great to see a woman in her forties being kick-ass."
• How does a proper Whovian appropriately channel their adoration for all things Doctor Who? The possibilities are endless, really. But some ultra keen fans profess their undying love through song. We loved "nerdy girl" Amy Lee-Radigan and her dreamy tune about wanting her own David Tennant. And we cannot forget the gaggle of girls from Manhattan who penned their own indie rock ode to Matt Smith. They were absolutely adorable. And now, we've discovered Chicago native Allegra, a dedicated Who die-hard who describes herself as a "ginger-licious teenager who spends too much time on the internet." Check out her crush-worthy Doctor/TARDIS number "Say Hello". Pure charm. P.S… her little ditty about River Song is pretty cute, too.
• And speaking of music, what better way to go out this week than this rendition of the Doctor Who theme played by the group Manta on guitar, cello and didgeridoo, for Australian TV?
• The "Where's the TARDIS?" contest is over, and BBCA will announce the big winner during the mid-season finale on Saturday. But check out some of the amazing finalists over on Tumblr. 4th runner-up Jason of Uxbridge, MA created two wooden TARDISES built to race in a pinewood derby for cub scouts. "The first Tardis was overweight and the second smaller TARDIS ended up being made to actually run," he writes. "It did come in first in one of its races. Although not really built for speed it does hold its own." Have a gander at some pics of this ingenious contraption.
• Salt Lake Tribune television writer Scott D. Pierce might be on to something. He is suggesting that the NCAA's Mountain West Conference (featuring the Air Force Academy, Colorado State University, UNLV, San Diego State University and a handful of other schools) may have taken inspiration from Doctor Who for their new logo. What do you think?
Read More
Filed Under: