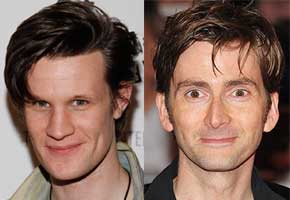 We all love a good awards ceremony, don't we? Especially when our affections are split between two equally worthy nominees, as they will be at the TVChoice Awards, which take place in London on September 13.
Current Time Lord Matt Smith is up for Best Actor for his role on Doctor Who, of course. But get this! The other nominees include David Tennant for the BBC drama Single Father, Sherlock's Benedict Cumberbatch, Colin Morgan for Merlin. Wow! Doctor Eleven is battling Doctor Ten, Sherlock Holmes and Merlin the wizard for supremacy. That's less a nominations list and more a long row in a pub between geeks.
And that's not the last split loyalty we shall have to endure; Karen Gillan is nominated for Best Actress, and so is Elisabeth Sladen. So Doctor Eleven's best companion is pitted against Doctor Four's.
Doctor Who is also, slightly less controversially, nominated for Best Family Drama, alongside Merlin, Casualty and Waterloo Road. Let battle commence!
• Oregon native Duncan Kitchin has merged his love for Doctor Who and astronomy to construct his own TARDIS for his Takahashi FSQ-106ED telescope. We think The Doctor would be quite impressed! (via Discover magazine blog)
• Bleeding Cool is reporting that Neil Gaiman is chatting with The BBC about turning his season six episode, "The Doctor's Wife," into a novel. Yes! Please let this happen!
• Speaking of books, if you're stuck for present ideas for your Who-mad mum, sister, wife or girlfriend, you might want to consider this collection of essays from women, all concerning how and why the show appeals directly to women. It has the astonishing title of Chicks Dig Time Lords: A Celebration of Doctor Who by the Women Who Love It, and it's published by Mad Norwegian Press. (via News Telegram)
• Our respect and love for the team who make the Den of Geek website has risen to new heights with the publication of their retrospective look at the work of William Hartnell, the very first Doctor. It contains this description "Hartnell's Doctor felt like he could genuinely do something magical at any given moment." But really, it's all good. Please read it.
• Doctor Who writer Tom MacRae has dropped a few slight hints about the episode he wrote for the second half of the current season of the show. One thing is for sure: "The Green Anchor" is a definite no-go for the title. (via The Daily Telegraph)
• For those anxious Whovians eyeing their next souvenir purchase, check out the "The Flesh" Goo Pod. This special memento, which is priced at $11.99 (£7.50) and available in July, sees the Eleventh Doctor covered in all kinds of gooey goodness, plus other hidden bits and bobs are also included. Squee!
• The Daily Mail reveals that some creepy new roadside safety bollards have been built near Plymouth, which are designed to remind drivers of the consequences of speeding. They claim the bollards – which resemble metallic children – are like something out of Doctor Who, which only makes things creepier as far as we're concerned, because now we're too busy checking for signs of movement to keep our eyes on the road.
• Chipo Chung of Camelot fame recently told Digital Spy that she'd fancy a return to the Whoniverse. The Zimbabwean-born actress made her debut as Chantho the alien in 2007's "Utopia" episode, but Chung says she'd like to bring back the fortune teller, which she played in 2008's "Turn Left" stunner.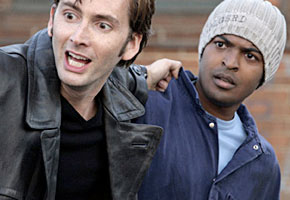 • Remember Noel Clarke, who played Rose Tyler's boyfriend Mickey Smith? He recently told BBC Radio 2's Simon Mayo that his early performances on the show are shockingly bad, as far as he's concerned. He explained that, due to him starting straight off the back of another job, he had no time to prepare and was under the impression that Doctor Who was a children's drama, so that's how he pitched his performance, with (as far as he's concerned) disastrous consequences.
He said: "Everyone else was kind of doing Inspector Morse and I was doing Borat… If you see it, that's what I was doing for the first three episodes. I went away, and I wasn't happy… I remember thinking, you've seen the cuts of those first three episodes, if you want to have any kind of career in the business you need to fix up."
Read More
Filed Under: