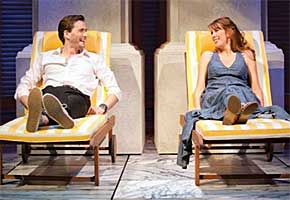 Last night saw the first performance of Josie Rourke's new production of the Shakespeare play Much Ado About Nothing, which just so happens to star David Tennant opposite his former TARDIS travelling companion, Catherine Tate.
The production, at London's Wyndham's Theatre, sets the play in 1980s Gibraltar, complete with golf buggies, disco balls and David Tennant in a white naval uniform. It already has a more traditional (and very well-received) rival playing at Shakespeare's Globe, on the South Bank. So a lot of the critics, who by and large seem to like what they've seen, seem to be spending their time comparing the two, and coming to very different conclusions, as critics tend to do.
Writing in the Guardian, Michael Billington said: "The pairing of David Tennant as Benedick with Catherine Tate as Beatrice is a marriage that, if not made in heaven, is certainly cemented by television and pays off superbly."
Charles Spencer of the Telegraph puts the Tennant/Tate pairing ahead of their rivals, saying: "Purists will doubtless baulk, but there is an outstanding traditional production of Much Ado now playing at the Globe, and Rourke's production has a freshness and wit about it that is often irresistible."
The Independent's Paul Taylor seems to have taken the purist approach, despite being very keen on David Tennant himself. He blames the director, saying: "This indoor, proscenium-arch account of the play fails to match – in confidence, sprezzatura, warmth of wit, or understanding of the heart – the version that opened last week at Shakespeare's Globe. A rare misstep for the admirable Josie Rourke, this production feels effortful and inauthentic."
And James Woodall of The Arts Desk went even further, saying Catherine Tate's performance lacks range: "Beatrice should, or can, be skittish, flirtatious and unpredictable. Tate is matter-of-fact, hard-nosed and static.
"She has one basic gesture, and that's finger-pointing. Her accent slews all over the place, from courtly posh to estuary – familiar of course from her screen comedy – and throughout it's as if she's just one step or chortle or guffaw away from the parody and mockery, the self-mockery, that make her TV characters so compelling."
Henry Hitchings of the Standard begs to differ: "I have seen funnier productions of Much Ado, and more pungently intelligent ones, but Rourke's account oozes charm. It conveys the play's latent darkness, and she has made some astute changes that invigorate the plot."
"Tennant is the star. It's not just his established fans who will savour his energetic performance. He invests his lines with a mixture of quicksilver wit and wiry physical excitement. Tate, though she has less range, proves adept at switching moods: one moment sardonic, the next touchingly vulnerable."
Something tells me that no matter what the critics think, any production that puts David Tennant into a white naval uniform AND has him bickering with Catherine Tate like a cross between Doctor Who and An Officer And A Gentleman, is on to a winner.
Keen? Tell us here.
Read More
Filed Under: